Summary of earnings season Q2: It's both right to be short and long
About 70% of S&P companies have reported earnings this week, which can be divided into two categories: average and particularly poor.
After losing the sense of urgency to raise interest rates, the market relaxed its demand for corporate results, and expectations fell to extremely low levels. In this case, only double-miss companies would fall.
This quarter will be a test of whether companies have the moat they need to be deep enough to weather economic headwinds. Obviously this kind of judgment method is not conducive to growth. So it is no surprise that the leading stock this week is the weight.
But stocks that have fallen sharply can also gain momentum when the broader market rebounds. This week showed just how difficult it is to short individual stocks in an uptrend. Do trade against the market, it is a test of mood, most people should be difficult to adhere to.
Like $Teladoc Health Inc.(TDOC)$ , which we mentioned earlier. Somebody traded a PUT with a strike price of $30 on July 7th.
On July 20, the man needed to move his position due to a rebound in the market and continued with a PUT option with a strike price of $35, resulting in a loss of half.
After TDOC's post-earnings drop on Thursday, this guy finally managed to make a profit.
However, it only made hundreds of thousands of dollars. This is not a show of wealth. Everyone who has experienced Q1 financial results knows that this decline can be doubled in Q1. He would have made more if it hadn't been for the broad headwinds.
As far as following the trend and placing short orders, I think most people will self-doubt and close their positions halfway through.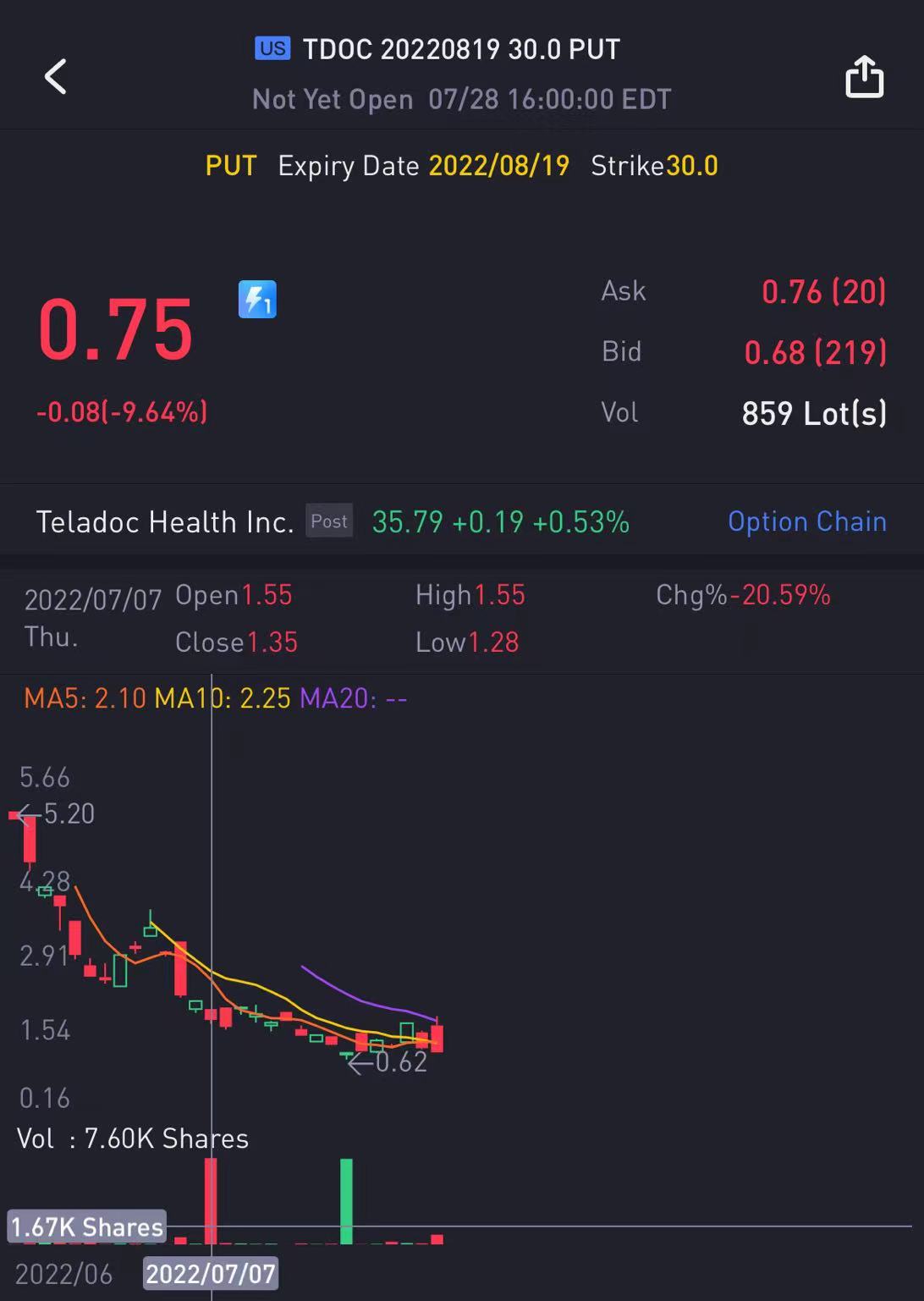 As with $Qualcomm(QCOM)$ , $Intel(INTC)$ and the $VanEck Vectors Semiconductor ETF(SMH)$ , contrarian shorting tests the mindset.
And seeing big short positions in the uptrend is equally shocking. Encounter this situation or need to global analysis, and then combined with the industry to judge one by one.
Despite the clear upward trend this week and in the coming days, there are still a number of stocks with big institutional short positions, such as SNAP, Google, Meta Bynd Pins, BAC, SQ, AMD, AFRM... If it is a deep PUT due in 2023, you can put it aside and focus on the recent trading trend. However, if it is a large deep put in the last two or three months, you are advised to avoid stock trading.
Chinese concept shares unknown plunge, continued concern.
Like some stocks, Alibaba jumped a lot of long-term deep intra-price puts on the 27th, some of which were closed positions, some of which were newly opened positions, indicating that it was still a long-term bearish situation. Likewise, I do not know the reason behind it.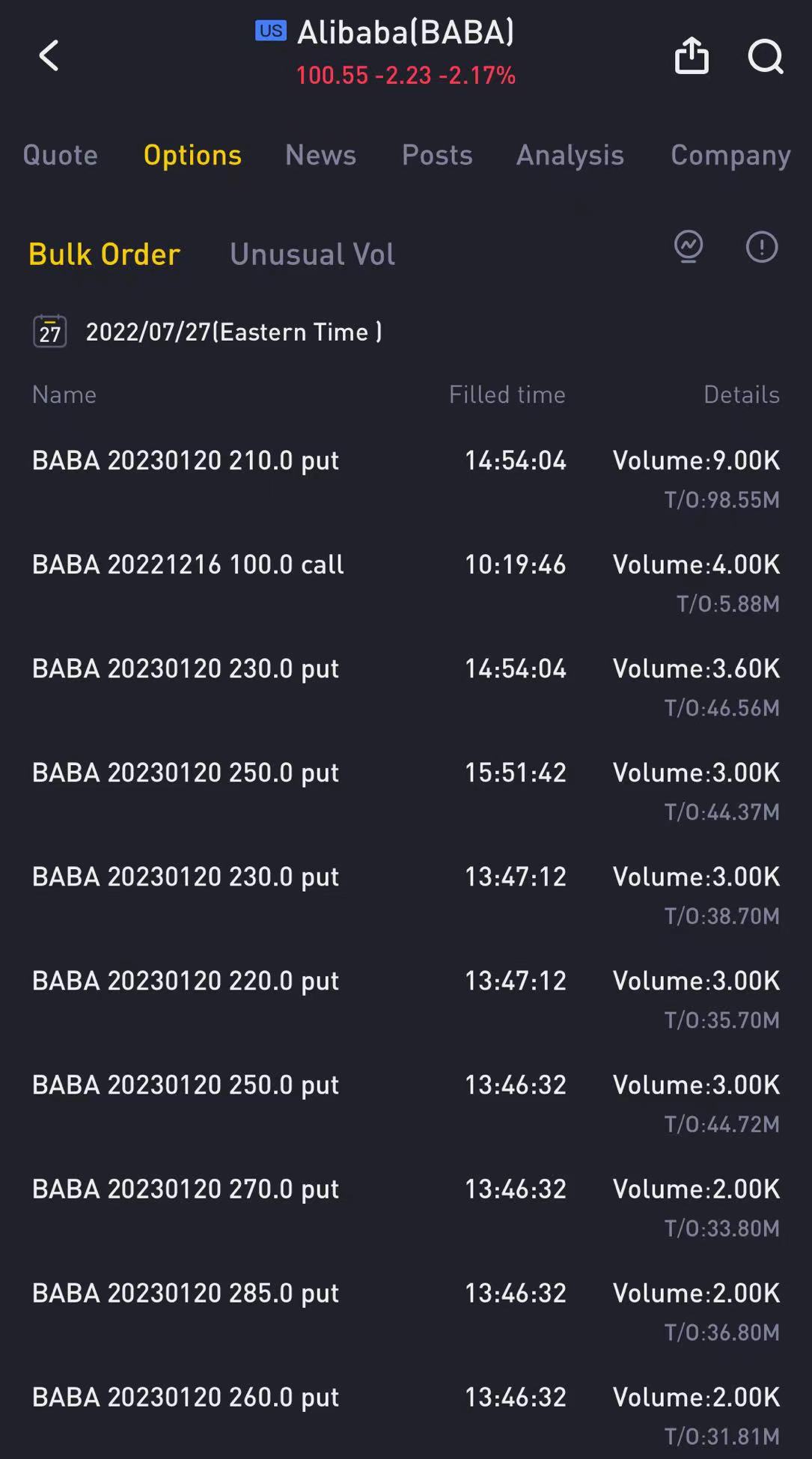 sell put
To sum up, the suggestion of the current low valuation market is still sell put, not anything else, but stability.
I picked some stocks to sell put. Although the P/E ratio of META is very low, it also has too much depth PUT. Avoid it first. (Deep PUT is mainly for the long term, if it is for the recent trend, don't pay too much attention to the trade, the daily level is not very guiding)
​​Wish you a happy weekend!
Disclaimer: Investing carries risk. This is not financial advice. The above content should not be regarded as an offer, recommendation, or solicitation on acquiring or disposing of any financial products, any associated discussions, comments, or posts by author or other users should not be considered as such either. It is solely for general information purpose only, which does not consider your own investment objectives, financial situations or needs. TTM assumes no responsibility or warranty for the accuracy and completeness of the information, investors should do their own research and may seek professional advice before investing.