The PUT thought to have been bought by Ms. Pelosi was closed, annualized return 270%
If I this article "Pelosi bought Ali's billion dollar PUT, didn't she?" The speculation is correct, so after the safe landing of the old lady, this batch of abnormal days PUT should be closed. Sure enough, yesterday, the option movement and collective volume: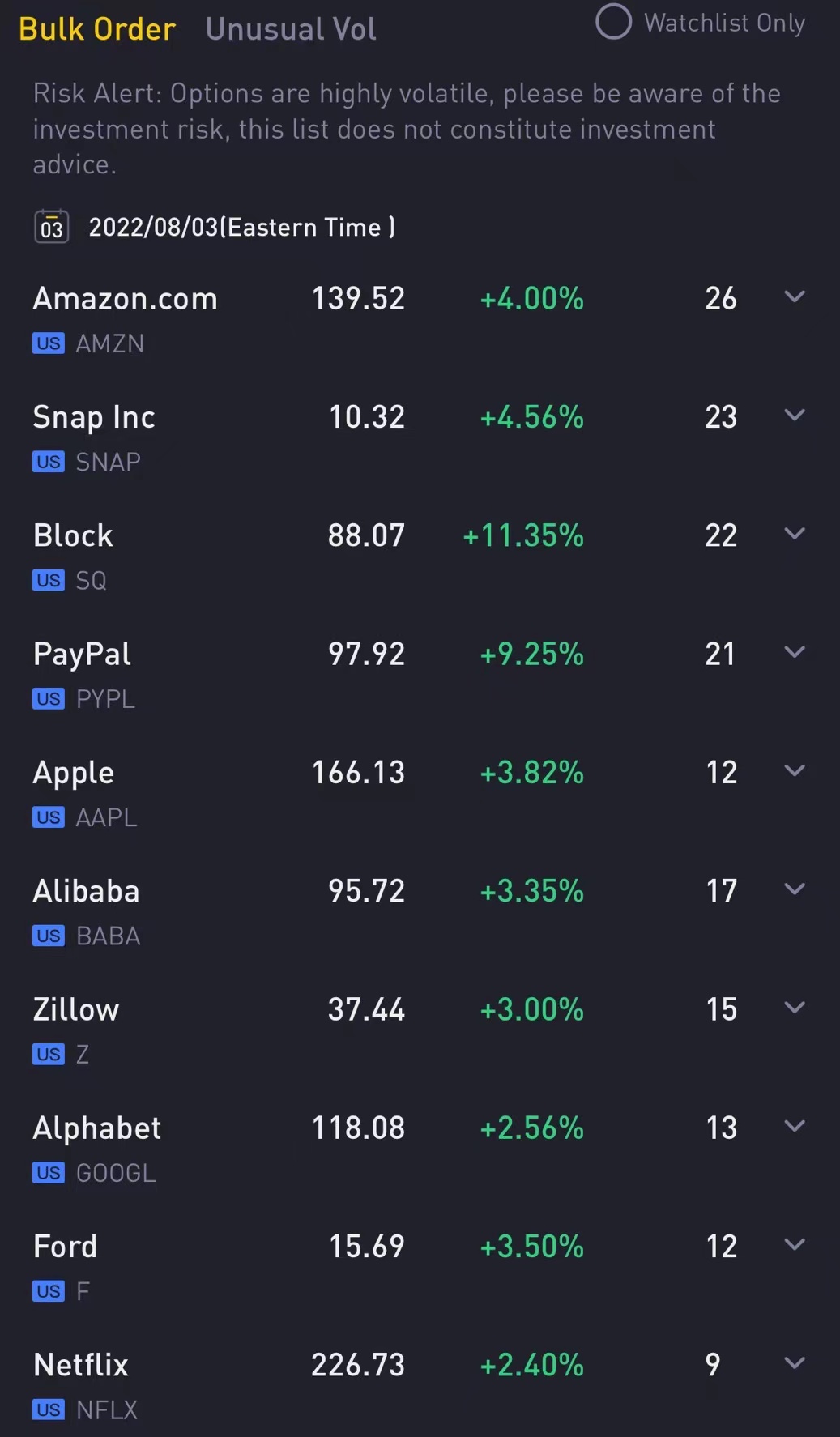 Do these orders of $Alibaba(BABA)$ look familiar? Was it on the 27th and 28th of July?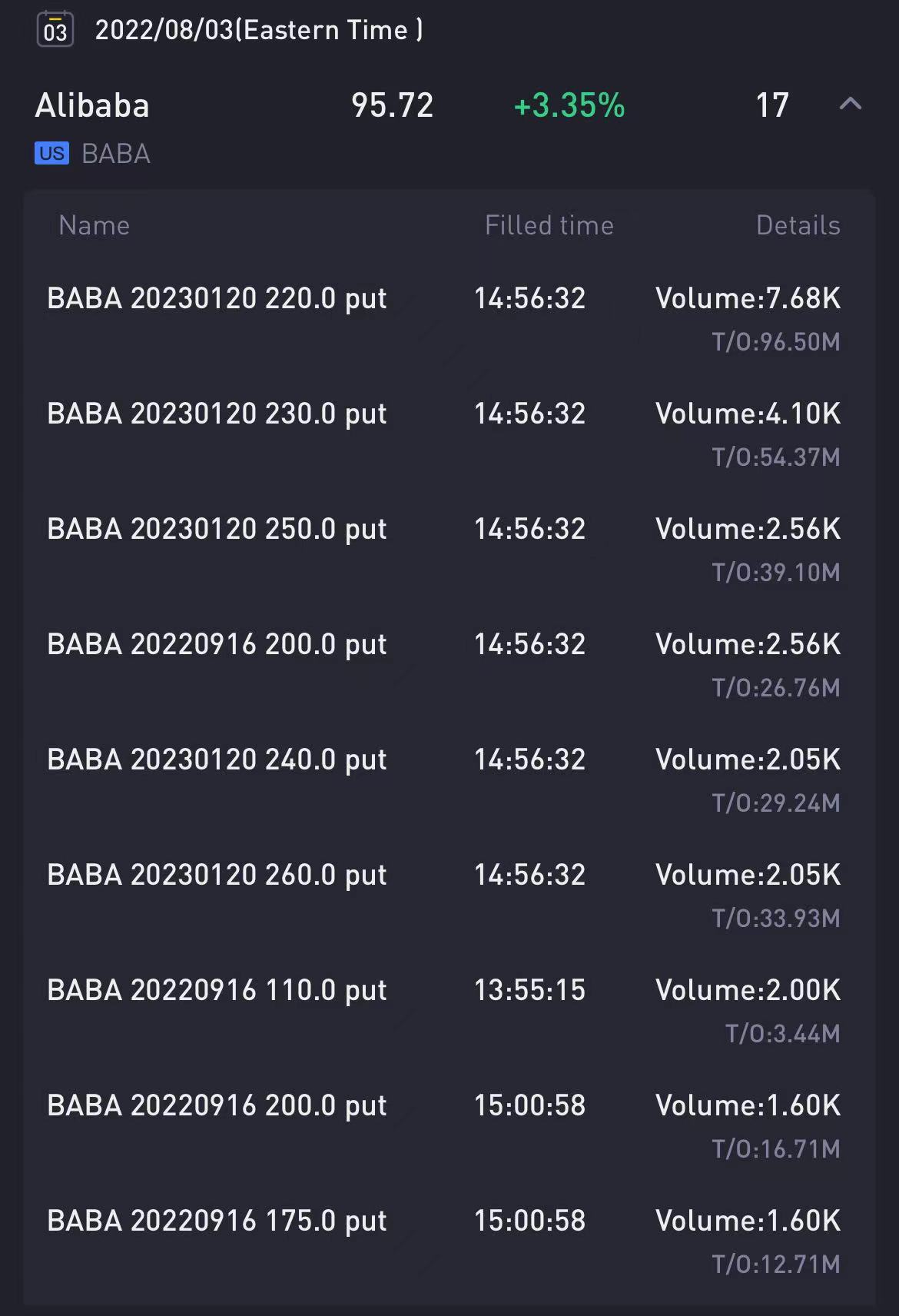 For example$BABA 20220916 200.0 PUT$, $98 to buy and $104 to close. Net profit of $600 on one lot, an eight-day annualized return of 273%, is indeed a good deal.
As for why such a deep strike price was chosen, that's for Ms. Pelosi herself.
One guess is that the old lady had no deep understanding of delta fluctuations and time loss, and to avoid these difficult impressions, she simply chose to buy into the forward depth.
One might wonder, how is it possible to be speaker of the House and not understand the basics?
I can only say that understanding principles is one thing, and having common sense of trading is another. Choosing the forward depth inside the price shows that she understood the risk of the option, but set the margin of safety too high, a little reckless.
And she does not need to worry about the liquidity of the excessive price of the right price, there must be specialized market maker services.
But then again, she wasn't entirely alone in those moves yesterday, as evidenced by the trading style.
$Amazon.com(AMZN)$ As you can see, a set of four options:
$AMZN 20220819 120.0 CALL$ & $AMZN 20220819 120.0 PUT$ is to close out positions
Traders continue to roll positions after taking profits: $AMZN 20220916 120.0 CALL$ & $AMZN 20220916 120.0 PUT$
Trading ideas and yesterday introduced the Tesla straddle, is the big market straddle. Traders expect the next month to be one-sided, either up or down.
I think it's going up.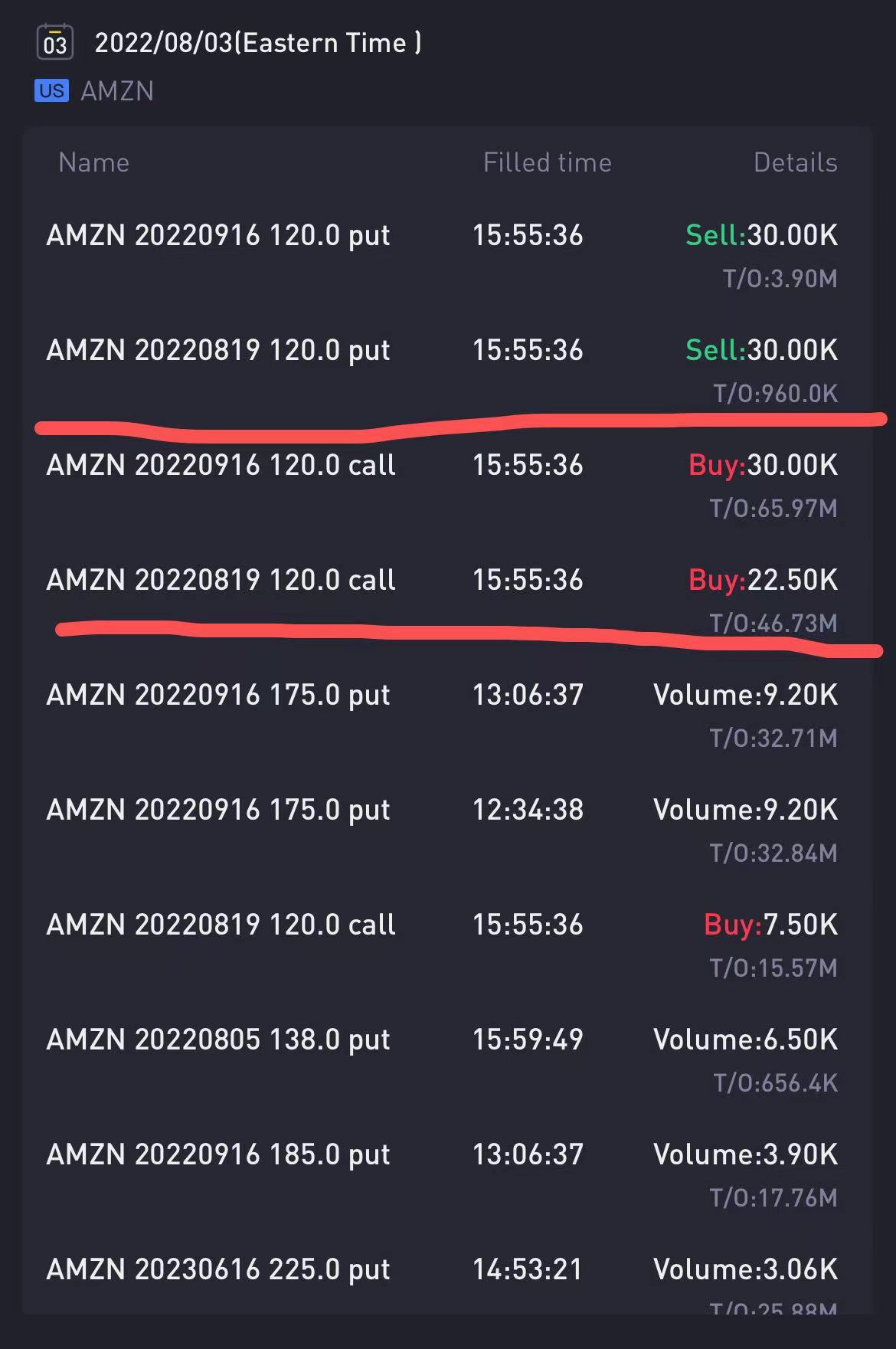 Sell put:
It's still yesterday's table, so I'm not going to recalculate it. Please cut the royalty in half and the annualized return in half. Steady hand, the exercise price did not rise with the stock price.
​​
Disclaimer: Investing carries risk. This is not financial advice. The above content should not be regarded as an offer, recommendation, or solicitation on acquiring or disposing of any financial products, any associated discussions, comments, or posts by author or other users should not be considered as such either. It is solely for general information purpose only, which does not consider your own investment objectives, financial situations or needs. TTM assumes no responsibility or warranty for the accuracy and completeness of the information, investors should do their own research and may seek professional advice before investing.