Apple Deserves a Surge after earning, What indicator shall we pay attention??
Two notable indicators need taking care.
$Apple(AAPL)$'s earning is quite attractive. Firstly, it is the feedback of market questioning of its performance, secondly, it is the feedback of the questioning of "recession", and thirdly, it is the indicator of stock market.
The performance of Fiscal Year 2022 Q3 beat estimate
Revenue was 83 billion US dollars, up 2% year-on-year, higher than the market consensus of 82.8 billion US dollars;
Gross profit was US $35.9 billion, down 5% year-on-year, but higher than the market consensus of US $35.4 billion;
The net profit was US $19.44 billion, down 10.6% year-on-year, higher than the market consensus of US $19.1 billion;
The diluted earnings per share was 1.2 US dollars, down 8% year-on-year, higher than the market consensus of 1.12 US dollars;
Free cash flow was US $20.7 billion, up 9.4% year-on-year, higher than the market consensus of US $17.8 billion.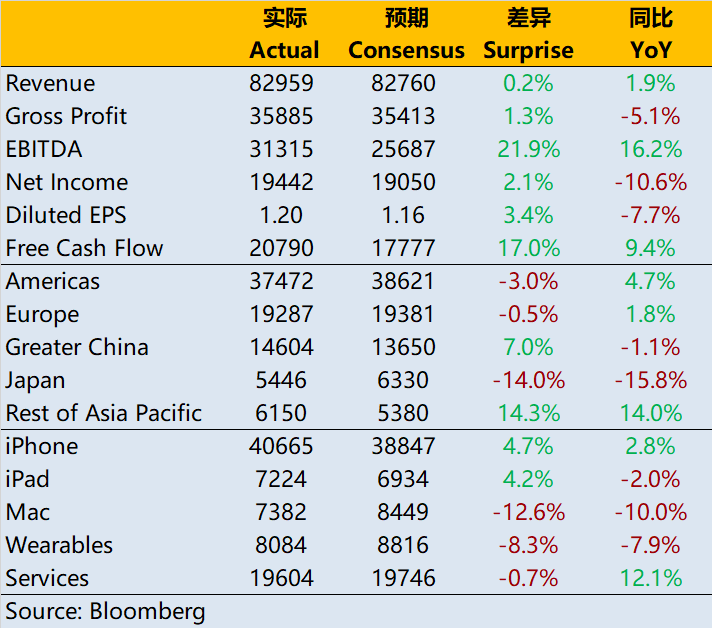 Revenue maintained a mild growth rate, while the decline in gross profit means that Apple will inevitably suffer from the impact of inflation raw materials (especially chips). In fact, the operating income meet in lines, slightly decrease of 4.3% year-on-year. that means that operational efficiency has not declined. The net income decreased by more than 10% year-on-year, which also caused EPS to decline by 9% at the same time, reflecting increasing tax expenses, which increased by 38% year-on-year.
By segments,the iPhone was undoubtedly the best performer, with a year-on-year growth of 2.8% and beat market consensus. Apple once removed some iPads' chip supplies to iPhones due to the "chip shortage". In comparison, Mac sales fell 10% year-on-year, which was also 12% miss the consensus, mainly due to latest M2 chip released in mid-June, consumers were in lag purchasing. Wearable products fell 7.9%, which was 8.3% miss than consensus, new Apple Watch also not released. The service revenue, including App Store, streaming media, licensing, AppleCare, iCloud, etc., had a double-digit year-on-year growth rate of 12.1%, but it is almost the same as the market expectation (-0.7%), that means the growth is mostly priced in.
By regions, Americas and Europe increased slightly, but it missed the market consensus. Greater China fell by 1.2% year-on-year, but still beat the market consensus by 7% because of its high base last year, and is still the biggest driving. Sales in Japan fell by 15.8% year-on-year, which was also lower than expected by 14%.largely affected by exchange rate. In other Asia-Pacific regions except China and Japan, the growth rate has reached double-digit 14%, but the overall scale needs to be improved.
Because of the uncertainty of macro environment, Apple did not provide the forecast for the next quarter and fiscal year, but gave the forecast for gross profit margin of 41.5-42.5%, which is less than the market consensus for the last three quarters, while the market expected an average of 42.3-43.5% in the next three quarters. it means, Apple estimates the cost impact to be greater.
In addition, the forex impact brought by a strong US dollar in Q2 brings as much as 600 bps headwinds. That means Q2's performance is actually quite good in terms of local currency, but unfortunately the forex impact brought by a strong US dollar will not end soon.
What the market is most concerned about is Apple's next performance level. There are two key information.
One, Apple's deferred revenue. it is the leading indicator of Apple's service revenue. Although still keeps growing, the growth rate has dropped to 0.41% in this quarter, which means don't hope that the service growth rate will still keep high growth in the future. Moreover, the Apple tax of Apple App Store is often criticized.
The other is the new season's products. Apple did not announce the delivery of equipment very early, also in order to give more room for pricing. In fact, the revenue of Apple Services depends on the sales of hardware products to a great extent. Now, North America and Europe are suffering from inflation, consumer confidence is declining, so, the modest inflation and realtive strong exchange rate means a lot.,Greater China is the best supporter.
In a word, Apple deserves the surge after the earning. While in the short term, big techs shall stabilize the market and boost the confidence.
Disclaimer: Investing carries risk. This is not financial advice. The above content should not be regarded as an offer, recommendation, or solicitation on acquiring or disposing of any financial products, any associated discussions, comments, or posts by author or other users should not be considered as such either. It is solely for general information purpose only, which does not consider your own investment objectives, financial situations or needs. TTM assumes no responsibility or warranty for the accuracy and completeness of the information, investors should do their own research and may seek professional advice before investing.