Wednesday, the turning point for the market
It's going up so well, I can't type fast enough to keep up with the stock price.
Before let everyone refer to the bottom of the growth stock index: $GameStop(GME)$ , I think the indicator is quite strong.
A bull market without demon stocks is not a bull market. Although the hero of this small bull market is not GME (is HKD), but does not prevent GME to be a good trend indicator.
This week into the end of the earnings season, still the main growth earnings. Similar to last week's advice, short selling is not recommended as it has become more technical after two weeks of observation.
The biggest impact is that fund companies and banking institutions have started to hunt for the bottom because of the cheap prices. You may have expected the results to be right, but you did not expect a 13F document to be disclosed along with the earnings. $Pinterest, Inc.(PINS)$ good, $Cloudflare, Inc.(NET)$ good, both prove that the price is attractive now.
But on the other hand, many stocks have risen to temporary highs, returning to their April highs, when war and supply chains were the main factors, and then when expectations of higher interest rates hit the market.
So Wednesday's CPI release is very meaningful. The CPI is influenced by two major factors: crude oil price and service price. Crude oil affects the headline CPI and services affect the core CPI.
The current market gains have well reflected the impact of the sharp drop in crude oil prices, the problem comes to the most difficult to suppress service prices, namely the core CPI. In July, the FOMC Powell mentioned in passing the focus on core CPI, which is a very different focus from the previous focus.
Services inflation is hard to beat, so to speak, because it is real demand inflation. Macro research circles are now pessimistic that core inflation will come down. While Musk also expects inflation to ease into a mild recession, that doesn't stop the Fed from using core CPI as an excuse to aggressively raise interest rates for now. I wouldn't be surprised if the Fed is always one step behind.
So I would expect a small pullback on Wednesday and then a rise.
Why? Don't forget that this quarter most companies are expecting good results for the second half of the year.
Some stocks that have risen too high, such as those back to April highs, should be avoided. Some of the early suppression of strong growth stocks and the like can see. The following change is a bit late, but with this meaning, we can go to change the list to find similar.
$Snowflake(SNOW)$ : NET Positive earnings results have given a lot of Internet growth stocks confidence to report. Although this is a straddle portfolio, the volatility direction covers up and down, but I think it should go up, target price $190.
$SNOW 20220826 165.0 PUT$ & $SNOW 20220826 165.0 CALL$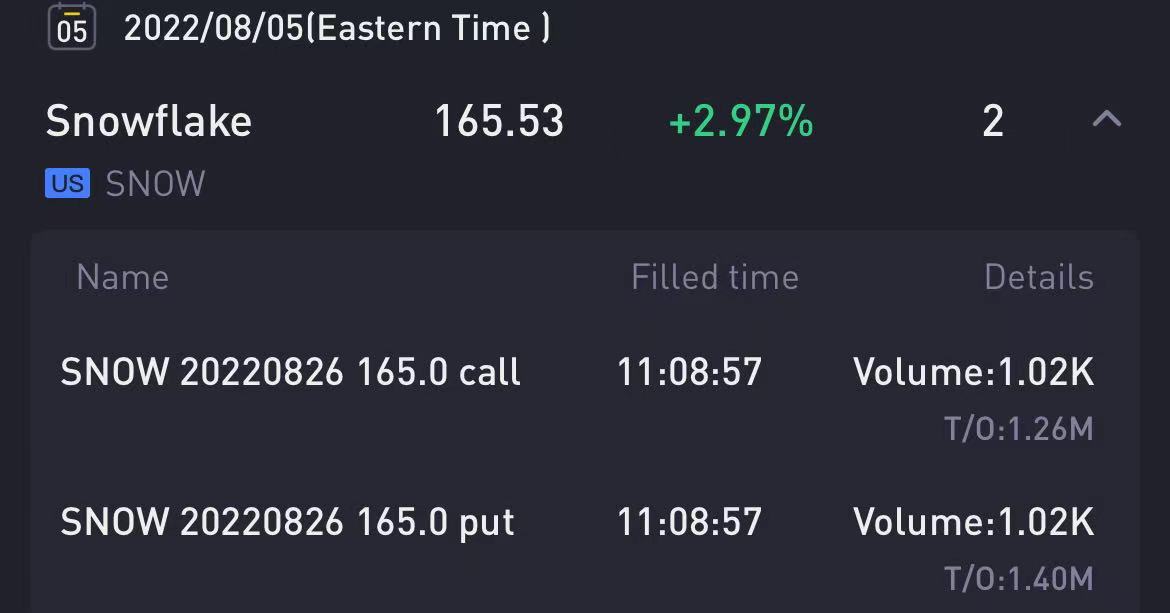 $NVIDIA Corp(NVDA)$ 's pre-market earnings tumble on Monday sent gaming stocks tumbling, including $Unity Software Inc.(U)$ .
But while Nvidia's graphics cards are primarily focused on console and PC games, Unity's engine covers mobile games, so the next time you see an opportunity like this, take a bargain. Earnings estimates are also good. $U 20221118 50.0 CALL$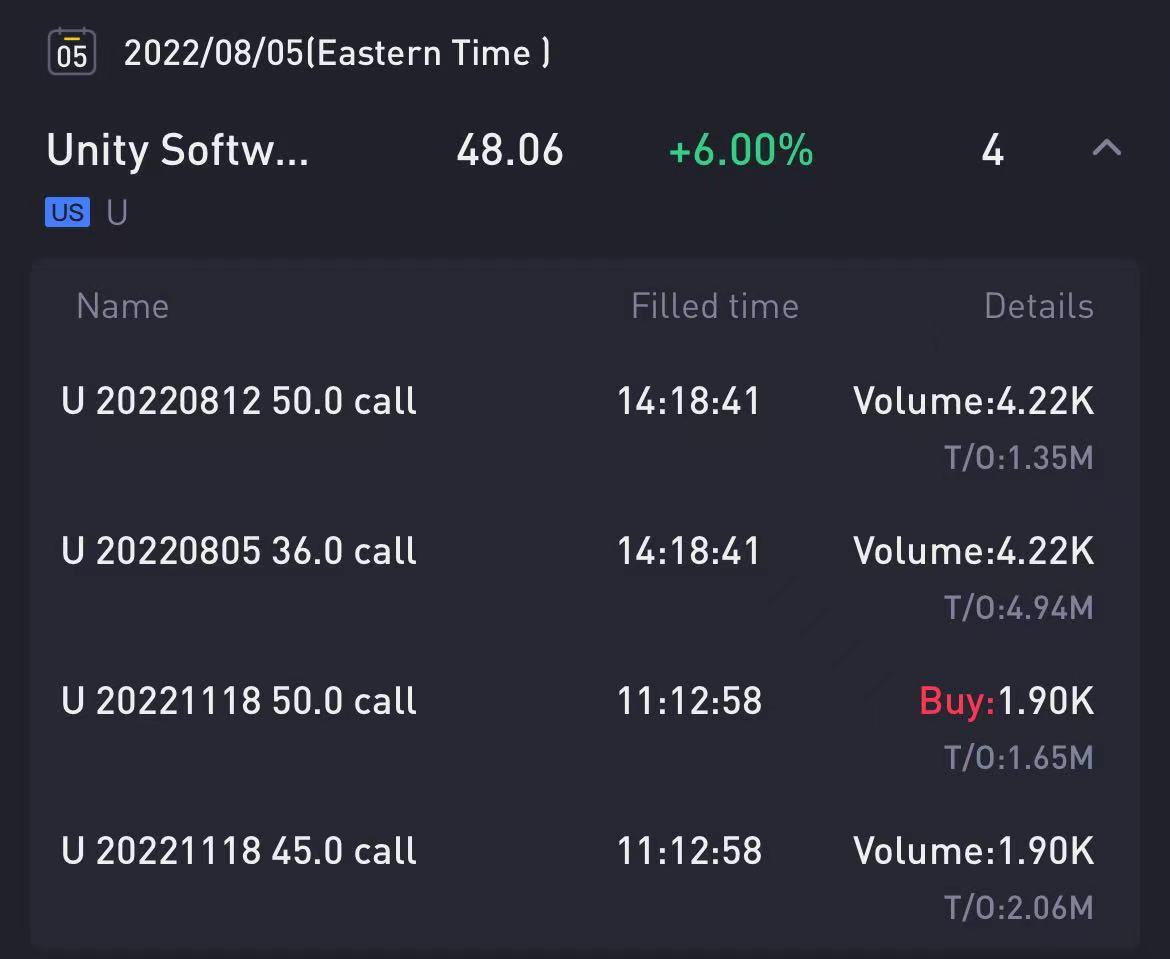 $Carvana Co.(CVNA)$ This message comes a little late. The company is used car business platform, financial results are good. Friday stock price change when the option screenshots, is a bias model of the buy strategy.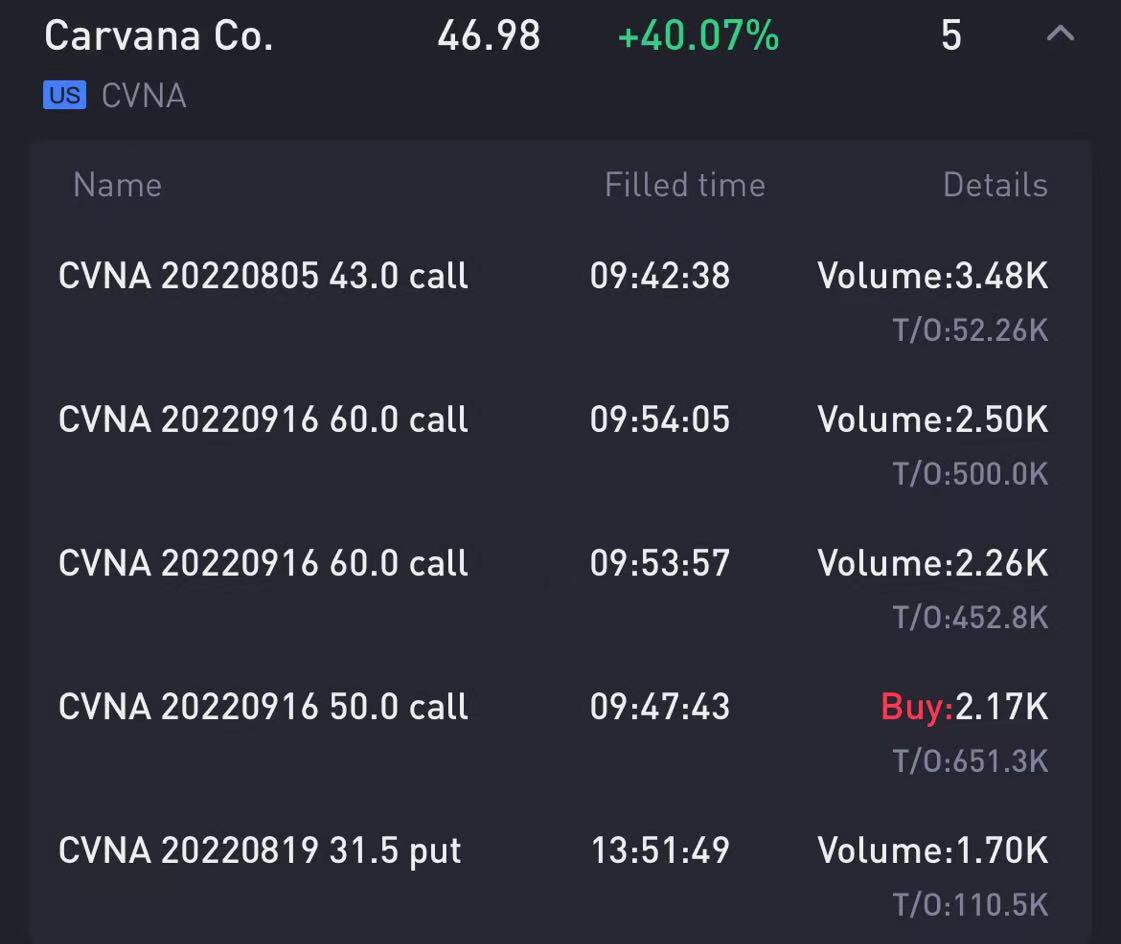 $DigitalOcean Holdings, Inc.(DOCN)$ Cloud hosting services company, business similar to NET. I'm not surprised to see this bullish move.
The options are different here, and we'll show you why.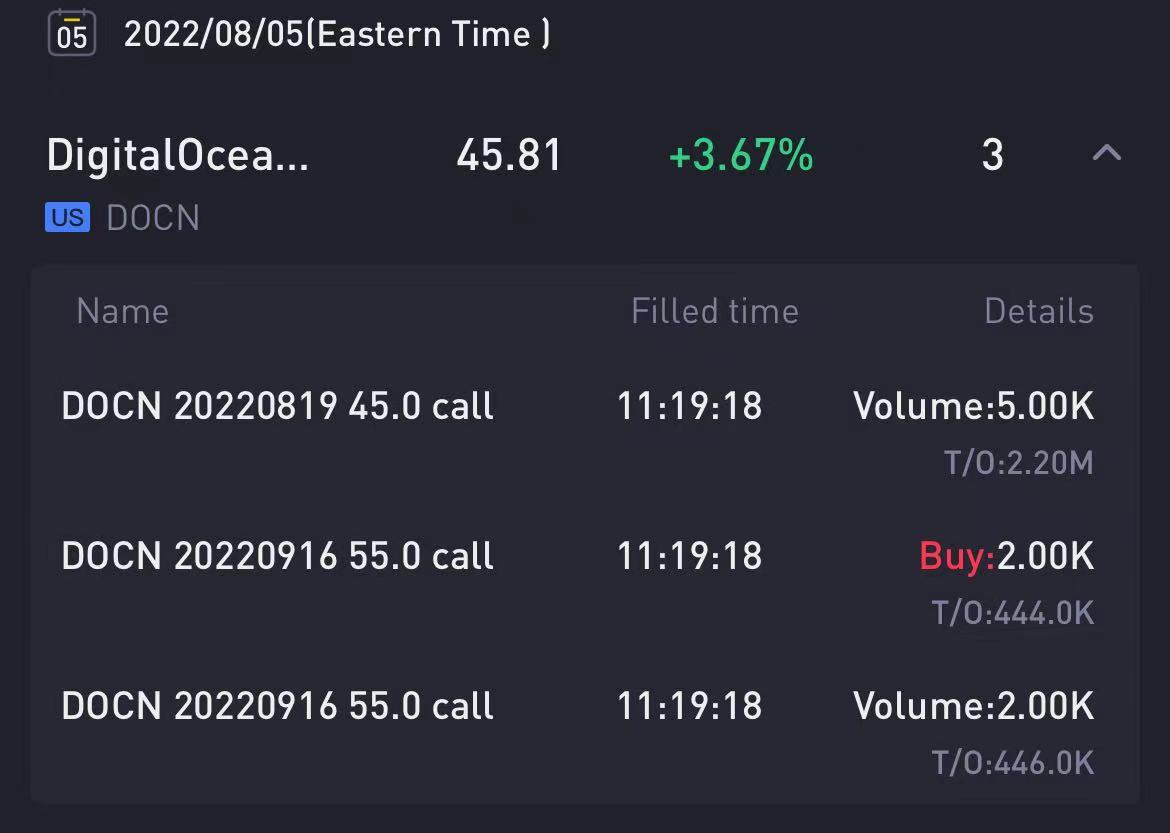 The Pit of Betting on Earnings (2)
Previously introduced ABNB financial statements step on the pit of institutions, step on the pit reason is the forecast of the decline, but did not predict the strong market.
Today also introduces an earnings report that was cheated by the market: $DoorDash, Inc.(DASH)$
DASH rose as much as 20% in after-hours trading Friday, sending its shares to $92. But because of non-farm expectations, growth stock collective pullback, open down 2%, stock price $79, option blood loss.
The best way to avoid this scenario is to avoid buying options that end this week, try to buy options that have plenty of time value three months from now, and don't think it's entirely safe to follow big orders.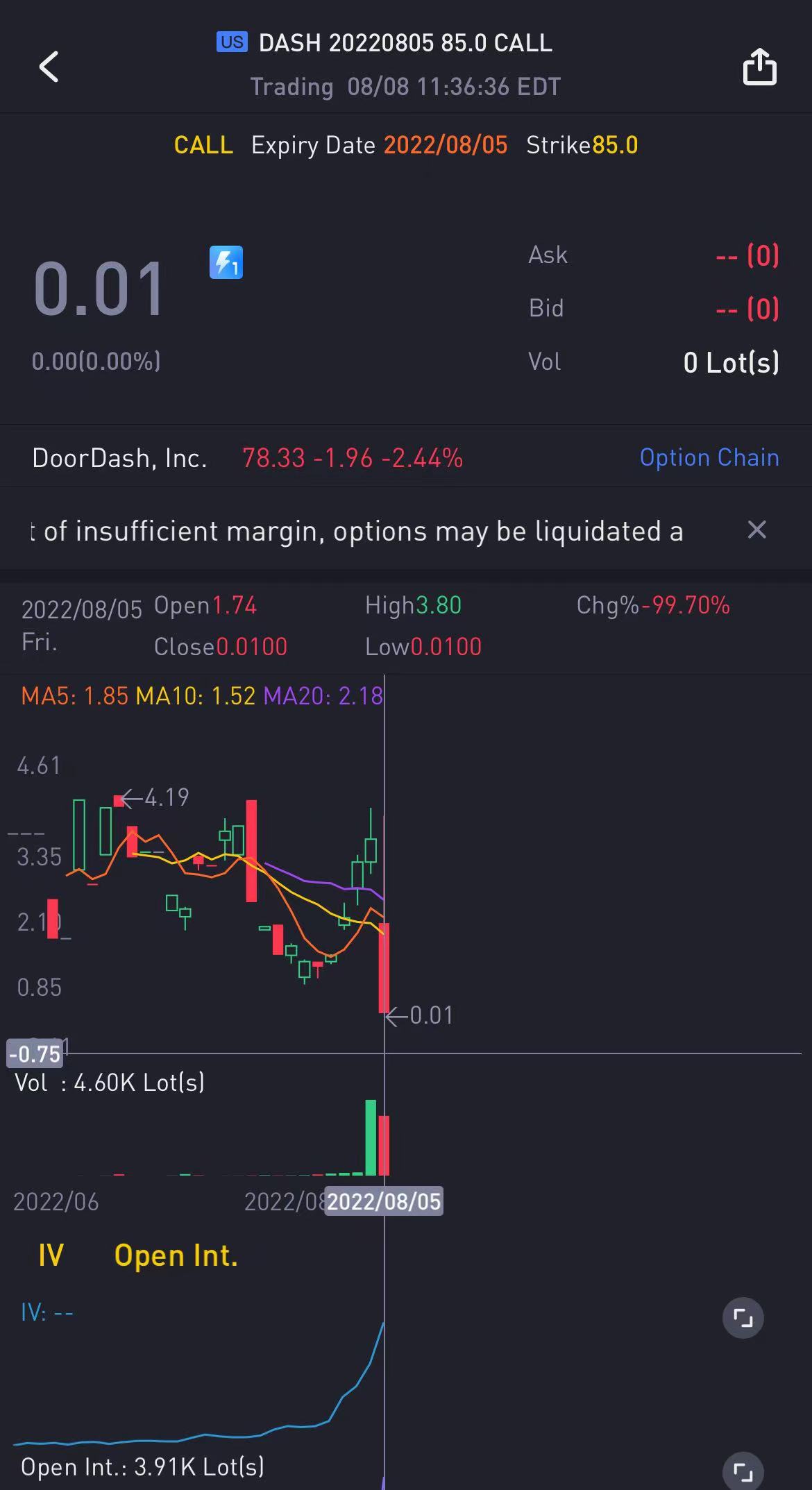 Disclaimer: Investing carries risk. This is not financial advice. The above content should not be regarded as an offer, recommendation, or solicitation on acquiring or disposing of any financial products, any associated discussions, comments, or posts by author or other users should not be considered as such either. It is solely for general information purpose only, which does not consider your own investment objectives, financial situations or needs. TTM assumes no responsibility or warranty for the accuracy and completeness of the information, investors should do their own research and may seek professional advice before investing.