Alphabet revenue unexpectedly rises in the first quarter
Google parent Alphabet reported revenue and earnings for the first quarter that topped estimates. The stock jumped over 4% in extended trading before paring its gains. Let's see what happened.
Let's look at Google's earnings report
The company's revenue for the period reached $69.787 billion, an increase of 2.61% year-over-year, beating analysts' expectations of $68.9 billion; earnings per share reached $1.17, exceeding analysts' expectations of $1.07.

Google reported core advertising revenue of $54.548 billion, down 0.2% year-over-year, in the third quarter since the company went public;

Revenue from YouTube ads: $6.69 billion, exceeding analyst estimates of $6.6 billion;

Revenue from Google Cloud: $7.45 billion, beating analyst estimates of $7.49 billion;

The Traffic Acquisition Costs (TAC) were $11.72 billion below analysts' expectations of $11.78 billion.
ChatGPT: Is it a bubble?
It is important to note that every change of era goes through a process called the technology curve, which is used by innovative risk takers initially, before spreading to early adopters and then spreading to the masses. The chart below illustrates the technological evolution from the earliest stone age to the invention of gunpowder to steam to the Internet age. Apart from these well-known examples, there are many other innovations that fail to meet early expectations or decline in value over time. One of the most popular metaverse concepts of last year is now rarely mentioned by anyone.
In contrast, the real technological revolution has been slower than expected. As an example, the telephone only became popular with the general public in the 1950s, following the invention of the innovators in the 1900s. Despite the fact that credit cards were created in the 1970s, they have not yet been adopted. Consider AI as an innovation similar to the telephone and credit cards. At what stage of the technology curve are we currently at?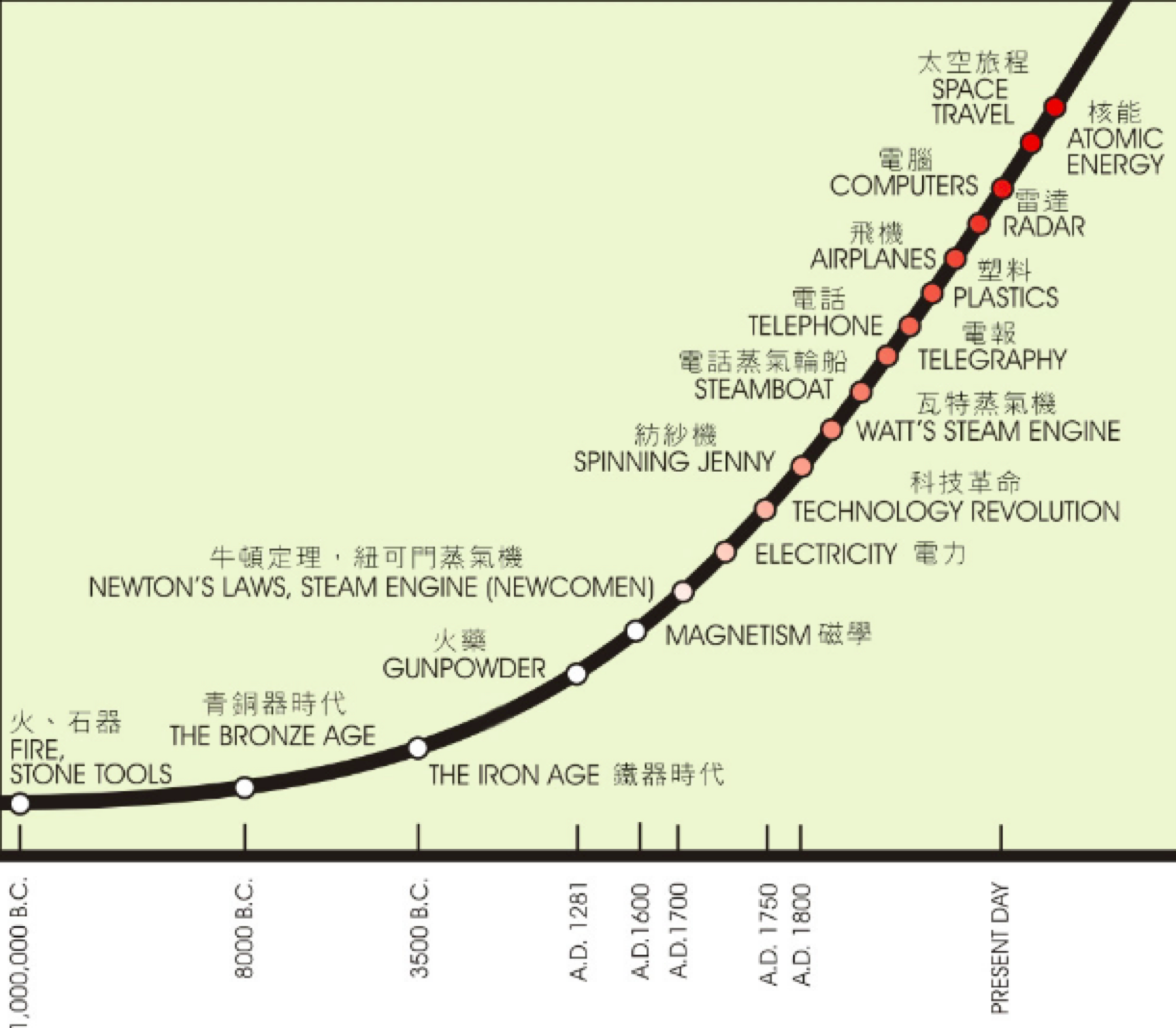 Although AI is in its infancy, as the technology that is most likely to shape the future of humanity, laying out AI is similar to catching the wind of the future. If you expect AI to help companies make money in the short term, it may be a bit fanciful.
In the present, the reason people are willing to give ChatGPT such a high valuation premium has more to do with ChatGPT's ability to provide more efficient search results, but as of now, ChatGPT still has a long way to go in comparison to the mature Google search engine.
At this stage, Google should focus on its own core competencies Search and the advertising revenue it generates, rather than trying to catch up with ChatGPT. In terms of revenue, Google is still a search company, and advertising must be his main business.
Google's moat
In my opinion, Google's moat is very wide. From Android phones, Google search engines, Gmail email, to YouTube, Google covers every aspect of our lives, and this gives Google a great deal of pricing power.
Since Google holds over 90% of the search engine market share, advertisers are more willing to pay a premium for traffic from Google than traffic from search engines like Bing.
As for browsers, Google is also doing well, with Chrome holding a share of 64% of the market.
Advertising revenue declined for the third consecutive quarter
In some ways, Google's advertising business is representative of the industry's booms and busts. The core advertising revenue of Google for the first quarter of 2023 was $54.548 billion, a reduction of 0.2% year-over-year. Ad sales revenue decreased for the third time since Google became public in 2004. The last decline occurred in the fourth quarter of 2022.
The impact of the epidemic on the current quarter's earnings was more passive and of short duration, whereas this time the decrease in core advertising revenue was primarily due to advertisers' proactive budget cuts. As global economic uncertainty has become more challenging and companies have cut back on online advertising spending, Internet companies have experienced significant revenue declines since the beginning of 2023. After all, economies are cyclical, and when the economy recovers, it will grow similarly.
We should pay more attention to Google's market share than to its earnings, since it might be Microsoft's Bing or Amazon Meta who will gain market share one day.
What analyst says?
Here's what analysts are saying:
Morgan Stanley (overweight, PT raised to $140 from $135)
Alphabet is still "an underappreciated AI leader" that will bring in "a new era of AI experiences for users, creators, and business partners" The results also showed signs of incremental expense discipline
Goldman Sachs (buy, PT $128)
The Search business results were better than expected "with the company citing resilience and talking about areas of forward innovation""YouTube Ads revenue growth also exceeded expectations"
Bloomberg Intelligence
"Alphabet's 1Q search segment results suggest better-than-expected ad pricing with minimal impact to volume from Bing-ChatGPT"
Jefferies (buy, PT $130)
The report shows a "nice beat vs. expectations for the worst, thanks to strength in Search (3% beat vs. St.) and momentum in Cloud"
The stock continues to trade below its long-term average multiple
As a whole, I consider a P/E of 21x to be an attractive valuation for Alphabet investors. How do you feel about this? $Alphabet(GOOG)$ $Alphabet(GOOGL)$ $Microsoft(MSFT)$
Disclaimer: Investing carries risk. This is not financial advice. The above content should not be regarded as an offer, recommendation, or solicitation on acquiring or disposing of any financial products, any associated discussions, comments, or posts by author or other users should not be considered as such either. It is solely for general information purpose only, which does not consider your own investment objectives, financial situations or needs. TTM assumes no responsibility or warranty for the accuracy and completeness of the information, investors should do their own research and may seek professional advice before investing.