📉Stock price drops by 6.28%🚗 after Tesla misses earnings estimates🚥
Tesla reported third- quarter earnings after the bell, and stocks fell by about 6.28% after hours following reports.
Here are the results
The financial report revealed that Tesla achieved revenue of 21.454 billion US dollars during the period, a year-over-year increase of 56%, which was lower than the analyst's expectation of 22.09 billion US dollars; adjusted earnings per share (EPS) under non-GAAP standards were US $1.05 for the third quarter, an increase of 69% year-over-year, exceeding analysts' expectations of US $1.01.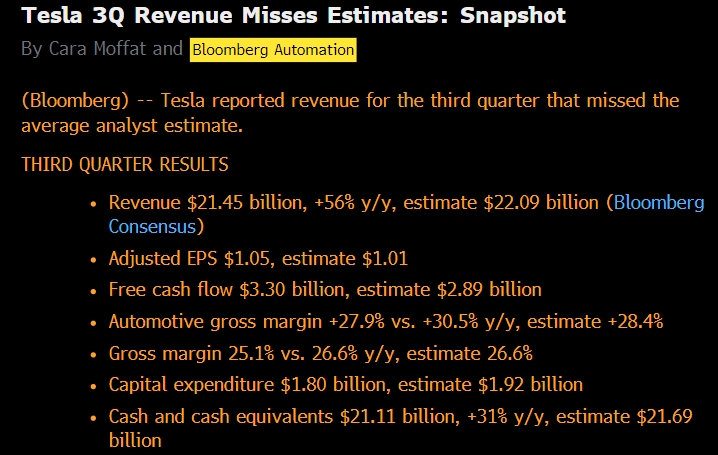 Tesla 3Q revenue misses estimates
Tesla achieved revenue of 21.454 billion US dollars during the period, a year-over-year increase of 56%.Tesla automotive revenue came in at $18.69 billion, an increase of 55% from a year ago.
Overall, these data are quite disappointing. Tesla released delivery data for the third quarter at the beginning of October. Tesla delivered 343,000 electric vehicles in the third quarter of this year, including 325,158 Model 3 and Model Y models, which accounted for nearly 95%, and 18,672 Model S and Model X, which were lower than the 358,520 predicted by analysts.
Assuming that Tesla's average selling price is $55,000, conservative estimates suggest that the automobile sales revenue is around 18.8 billion. Adding the carbon credit revenue and the automobile rental revenue, it should be around 19.7 billion, but the revenue for the automobile is only $18.69 billion.
In Tesla's quarterly report, the following items impacted revenue. A decline in average selling prices and a negative impact of foreign exchange may be the primary cause. Some analysts estimate that Tesla's ASP actually decreased by 4% month-over-month.

The gross profit was lower than analysts' expectations
Tesla's automotive gross margin came out at 27.9 percent during the second quarter of 2022, exactly where it stood in the second quarter of 2022, which was lower than analysts' expectations of 28.4%. Many analysts were optimistic about Tesla's gross profit performance prior to the financial report. On the one hand, Tesla's gross profit margin improved as the Shanghai factory resumed production. On the other hand,the material costs of automobiles remained stable in the third quarter of the year.

In addition,Tesla's automotive regulatory credits made up 1.5% of automotive revenues at $286 million for the quarter.

Tesla's automotive regulatory credits have played an important role in helping the company's revenue and net profit to increase significantly.. As the name implies, carbon credits are selling carbon emission credits to rival car companies, and Tesla earns revenue by selling Zero Emission Vehicle (ZEV) credits and Greenhouse Gas Emission (GHG) credits to other manufacturers. These manufacturers use the purchase credits to meet market requirements instead of making their own electrified or energy-efficient vehicles.
In Tesla's financial report, carbon points sales have always played animportantrole.Since the sales of automobiles can be predicted, if you wish to exceed expectations, it often comes from carbon points, which have basically no cost, contributing greatly to gross profits and net profits.
The demand for carbon credits decreases after traditional car companies convert to electric vehicles. Tesla is mightily struggling to keep up with the competition in the world's two most mature EV markets: China and Europe. Specifically, Volkswagen, Stellantis, Hyundai-Kia, BMW Group, and Mercedes-Benz Group have each sold more EVs than Tesla January 2022 through August 2022,The top five EV makers enjoy a combined share of 68% of the European EV market compared to just 7% for Tesla.

Tesla isn't having any more success in China, either. Tesla's share of the China EV market from January to August 2022 also was just 7% compared to 28% for BYD and 9.1% from GM-backed SGMW.
In regards to the financial report, there have been no surprises for themarket, and bothrevenue and gross profit margin are lower than marketexpectations, whichis also the direct cause of the decline after the report. Moreover, factors such as doubtful delivery guidelines and selling pressure on Twitter contributed to the panic in the market.
TSLA's valuation makes no sense
As we review Tesla's telephone conference, there are only two key points. One is the delivery outlook for the entire year of 2022, and the other is the roadmap fornewsemi-truck and cybertruck products.
TESLA Q3 2022 Q&A Session Transcript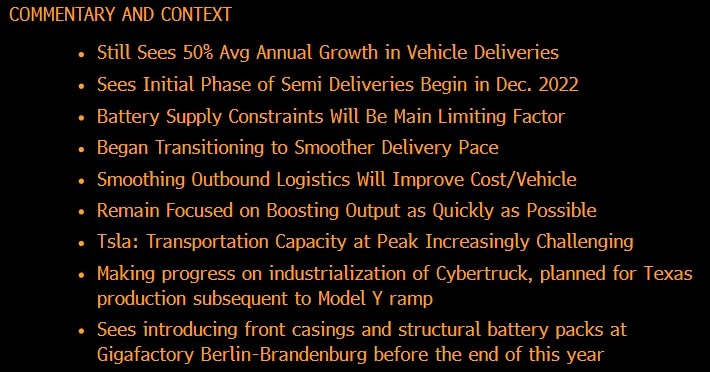 I believe that friends who follow Tesla should pay attention to the company's deliveryguidelines, asTesla's valuation has always been relatively high, whether measured through P/E ratios, P/B ratios, or EV/EBIT ratios.


Tesla's valuation is based on the valuation of growth stocks. Although Tesla delivered 343,000 vehicles in the third quarter, a 42% increase over the same period last year, the company's deliveries were still 6% lower than expected.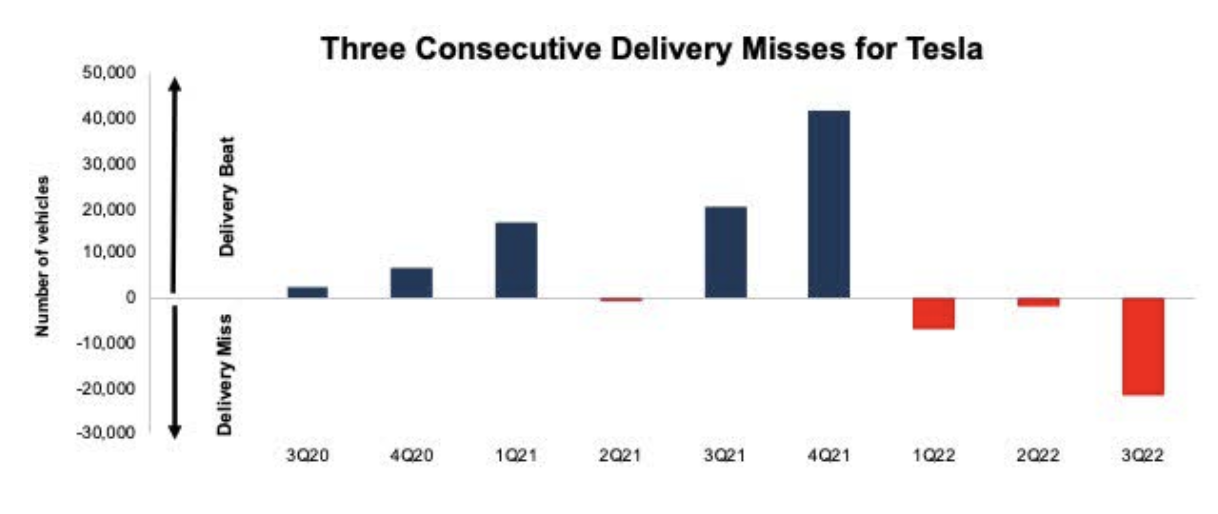 The Chief Financial Officer (CFO) of Tesla, Kirkhorn, predicted that the growth rate of delivery this year would be less than 50%, which greatly impacted investor confidence. It is likely that Tesla's valuation will return to rationality if there is no growth.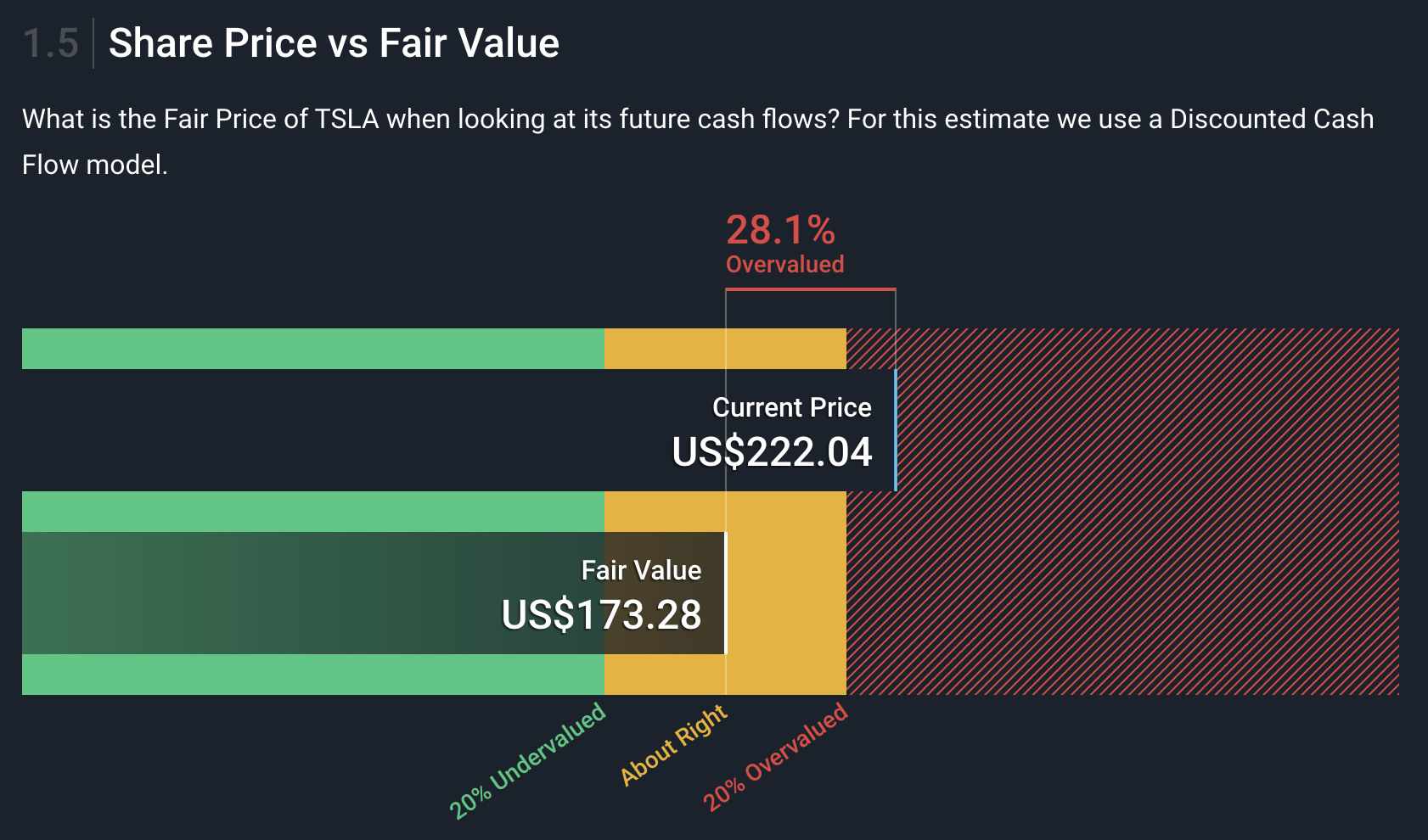 Musk sell the stocks
Twitter's acquisition problem is another major concern plaguing Tesla in addition to the growth rate issue. Musk keeps dumping shares of Tesla. Musk sold$16.4 billionworth of Tesla stock in November and December of 2021. Then, in the name of funding his proposed Twitter takeover, Musk sold$8.5 billionworth of stock in April 2022 and another$6.9 billionworth of stock in August 2022. Altogether, Musk sold ~$31.8 billion worth of stock (4% of current market cap) in less than a year without causing much of a stir among investors. A $44 billion purchase price would also require Musk to sell $12.2 billion worth of stock.
In general, Tesla faces challenges due to the company's less-than-expected earnings report coupled with questionable guidance and a shakeout in its stock price as a result of Twitter's acquisition. What is your opinion of Tesla's earnings? $Tesla Motors(TSLA)$
Disclaimer: Investing carries risk. This is not financial advice. The above content should not be regarded as an offer, recommendation, or solicitation on acquiring or disposing of any financial products, any associated discussions, comments, or posts by author or other users should not be considered as such either. It is solely for general information purpose only, which does not consider your own investment objectives, financial situations or needs. TTM assumes no responsibility or warranty for the accuracy and completeness of the information, investors should do their own research and may seek professional advice before investing.