Twtter's Q2 put rotten, Elon has chance to escape?
$Twitter(TWTR)$ released posted second-quarter results that missed expectations, a lot, which was as bad as the financial report announced a few hours ago$Snap Inc(SNAP)$.
SNAP at least showed growth in revenue, while Twitter has completely put rotten.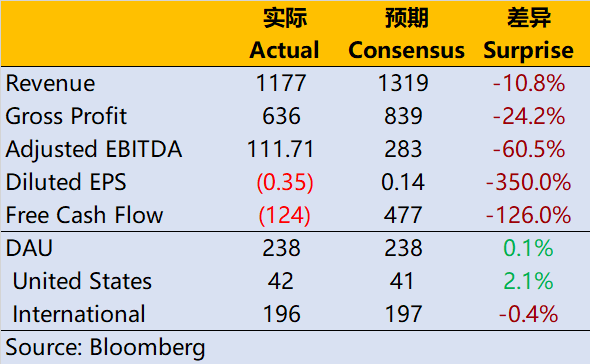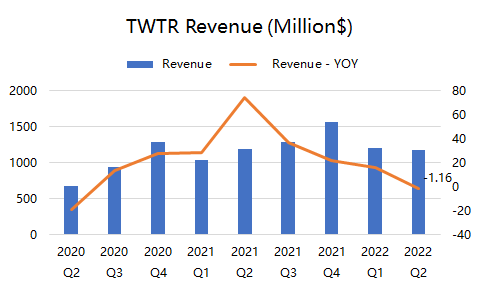 For TWTR, everyone is well aware of the drama that has engulfed Twitter since Musk first agreed to acquire the company three months ago. As of now, Musk is trying to terminate the deal, and Twitter has sued to force him to adhere to the terms of the acquisition.
At beginning, Musk put the acquisition conditions of $54.2/share, but now Musk wants to cancel the transaction because of the "false account", until Twitter filed a lawsuit in turn to force him to abide by the acquisition terms. A Delaware judge dealt a blow to Musk by deciding that Twitter's case can be expedited and said the trial will take place in October.
These actions of Twitter executives "can't wait" to sell the company give investors very bad impression. Whether it is the founder or the CEO of the emperor, If you are trying your best to run a company, you can't wait to sell it?
Therefore, no matter how many excuses the executives make in the statement, such as being affected by the foreign exchange headwind brought by the strong US dollar, "the advertising industry is affected by the macro environment", "the uncertainty of Musk acquisition" , I think it makes no sense. Executives don't pay attention, and performance is nonsense.
Twitter's poor performance this time shows once again that it is difficult for advertising revenue to grow, which is not as good as expected. I think there are several reasons;
First, it really can't compete with Tik Tok, and advertising always belongs to userbase.Even SNAP, whose user base is younger, is affected. Twitter is not as good as SNAP, and it is often a group of older political commentators with rhythm, which leads to a big gap between advertisers of the two. According to Nielsen's previous survey, the most "trusted" advertising method for Americans is recommended by acquaintances, and Snap, Instagram and Tik Tok, which have more social attributes, are obviously more dominant. How many people open Twitter and expect to be recommended by acquaintances? Of course,$Apple(AAPL)$Privacy policy has an impact, which has been mentioned in previous quarters.
Second, what Musk thinks is a "fake account" may really exist.Q2's DAU increased by 16.6%, almost following the market expectation. But why are active users expected to be similar to the market, but their revenues are 10% less? CPM (Charge by Display) advertising can increase with the increase of user activity, while CPC (Charge by Click) advertising is the time to test the conversion rate. Advertising is inefficient,It's just that some robots can't click, or their link conversion rate (CTR) has decreased.As for whether it exists for a long time, or whether it is dealt with because Musk mentioned it, no outsider knows.
Third, the expectation of recession is too strong.Whether the American economy is really in recession or not, advertisers believe in recession first. That is the industry-wide problem, no matter what type of advertising is affected, because advertisers take the initiative to reduce expenses.
For Twitter, it doesn't matter why. Musk has taken the bait anyway. Moreover, at present, many chips in the secondary market are arbitraged, and the stock price has an anchor to a certain extent. Even if the performance is very bad, the selling may not be big. Moreover, there is a probability that Musk will buy and sell strongly, and then the major shareholders and management will cash out and leave. What a good deal.
Next, the pressure came to METAL. Let's have a good way to deal with Zuckerberg, who has a bad relationship with China, in order to cope with Tik Tok competition.
Recommendation: Will SNAP's dilemma reappear?
Disclaimer: Investing carries risk. This is not financial advice. The above content should not be regarded as an offer, recommendation, or solicitation on acquiring or disposing of any financial products, any associated discussions, comments, or posts by author or other users should not be considered as such either. It is solely for general information purpose only, which does not consider your own investment objectives, financial situations or needs. TTM assumes no responsibility or warranty for the accuracy and completeness of the information, investors should do their own research and may seek professional advice before investing.