Opportunities after FOMC landing
After watching the news all day today, I would like to sum up tonight with one sentence: it is not important to raise interest rate by 75 or 100 points. The main issue that the market cares about is the terminal interest rate, 4.5% or 5%.
Institutions differ widely on this, as reflected in the contradictory nature of indicators. Only 16% of its constituents are trading just above their 200-day moving averages. The 20-day moving average of the CBOE Index put/call ratio has been falling until recently, while a similar measure of stocks has risen to near April 2020 levels.
The extreme mismatch between the volatility of stocks and the broader market has intensified.
This long-short contradiction leads to two other phenomena:
1. ETF holdings are minimal in long-term contracts and hedges are concentrated in short-term options within the last week.
2. Institutional cash holdings reached new highs, with many institutions closing short and long positions recently.
Although from the previous FOMC after the market trend, the rise in the majority, but still recommended to buy straddle, the likely volatility expectations for the straddle is still cheap.

Many of you may not like two-way bets, but there is one way to bet on extreme reversals: Treasury bonds: $iShares 20+ Year Treasury Bond ETF(TLT)$
Some traders have started to bet on an extreme terminal rate of 5%. The prevailing view is 4.5%. In other words, if there is no extreme expectation of a rate hike tonight, Treasury bonds are likely to fall in anticipation of a landing, and TLT will rally accordingly. Treasuries are one of the most extreme bets at the moment, so there are a lot of big calls under TLT at the moment because the odds are right.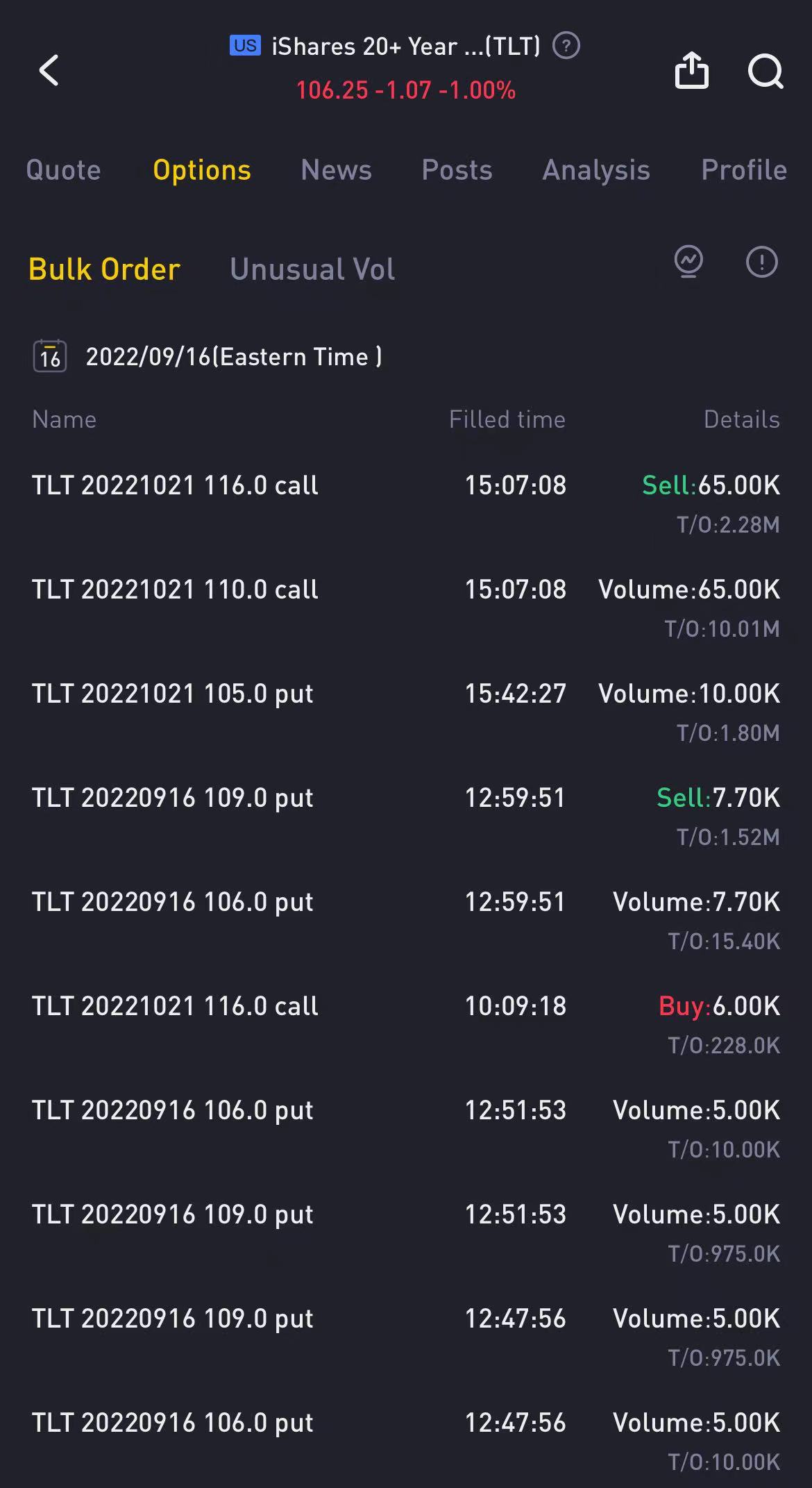 Anyway, two things to note when you look at the FOMC summary tomorrow:
1. Terminal interest rate is 4-4.5%? Or 5%? The market is now fully expecting 4.5%, with further valuation adjustments expected if it is 5%.
2. At present, most traders expect that interest rate cuts may start in 2023, but the actual situation may not be optimistic, if the Fed does not relax the idea of tightening in 2023, then it may become a big thunder.
Thanks to tiger friends support. If you are interested in options, you can join my discord:Options YYDS​​​
also tiger options group:Tiger Options Club
Disclaimer: Investing carries risk. This is not financial advice. The above content should not be regarded as an offer, recommendation, or solicitation on acquiring or disposing of any financial products, any associated discussions, comments, or posts by author or other users should not be considered as such either. It is solely for general information purpose only, which does not consider your own investment objectives, financial situations or needs. TTM assumes no responsibility or warranty for the accuracy and completeness of the information, investors should do their own research and may seek professional advice before investing.