The Nvidia bears are so afraid of the bulls
Just saying that AMD and Nvidia had no big options moves on Tuesday, then here we are on Wednesday:

So these traders have been meeting on Tuesday to discuss how to respond to a 50 basis point rate hike, right?
According to the understanding of the label and transaction price, the direction of buying and selling should be like this:
To explain the bid/ask direction label, the bid price tends to sell and the ask price tends to buy. So the strategy interpretation is to buy the put with a strike price of 180 and sell the call with a strike price of 360 at September 15.
Total buying turnover was 6.8 million and total selling turnover was 3.9 million. A real big deal.
Total buying turnover was 6.8 million and total selling turnover was 3.9 million. A real deal.
But there's a catch to this strategy.
By observing the large sell call orders in the first two months of this year, we can find that the pricing of sell call exercise price is a strong technical task. The resistance level is the exercise price, never adding a dollar. But the strike price of the sell call in this strategy is outrageous:
That's higher than Nvidia's 2021 peak of 346.47. The exercise price was set at 360, or a 48% increase over the current share price.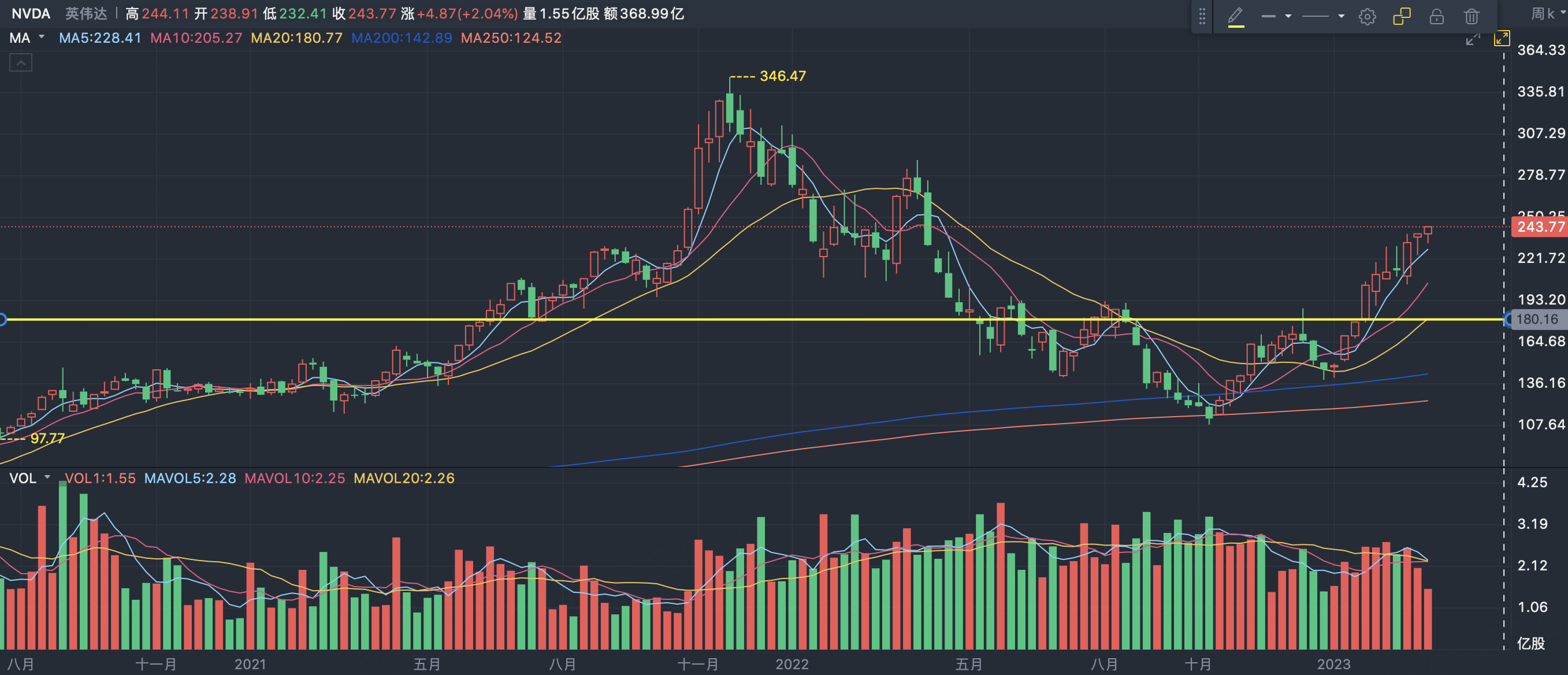 It's even weirder to think that if Nvidia is actually capable of hitting its 2021 high by September, it would theoretically be more appropriate to sell a put option.
The reason for this strange order is probably for delta hedging. The put delta is -0.158 and the call delta is 0.162.
It's not unreasonable for bears to be so cautious. Semiconductor stocks didn't fall much on Tuesday despite Powell's big push. When no one is leaving the table and the bulls feel that they have not run out of money, the bears need to consider playing the long game when making trades. Option expiration dates in September also suggest a poor outlook for the near-term downtrend.
It's clear that Nvidia has been the bull of late, though I'm not sure where the bull is coming from:
​$NVDA 20230331 270.0 CALL$

Yesterday a lot of option sheets started picking options with July, August, and September expiry dates, maybe trying to give it all to time.
Finally, two orders of China stocks are easy to understand, pdd's sell call and $Li Auto(LI)$ buy put
sell ​$PDD 20230406 102.0 CALL$ $PDD 20230406 102.0 CALL$
Disclaimer: Investing carries risk. This is not financial advice. The above content should not be regarded as an offer, recommendation, or solicitation on acquiring or disposing of any financial products, any associated discussions, comments, or posts by author or other users should not be considered as such either. It is solely for general information purpose only, which does not consider your own investment objectives, financial situations or needs. TTM assumes no responsibility or warranty for the accuracy and completeness of the information, investors should do their own research and may seek professional advice before investing.