Someone bought $3 million put to short ASHR
Another big story broke last night. A Chinese blogger has claimed that more than 300 fund managers, some of them well-known public fund managers, have been reined in for betting on over-the-counter options, calling it "the biggest scandal in the history of the public fund industry".
As of the time I wrote, there had been no official disclosure or clarification from any regulator or company, and the unusually stable performance of the Chinese market had to raise doubts about whether the news was true or false.
There were doubts yesterday. Although the Chinese stock market does not open at midnight, the US stock market is open, and the trend of the $Deutsche CSI 300 Index ETF(ASHR)$is too stable. I have seen many friends in the financial circle use the market chart of ASHR to tell people that they do not believe rumors and do not spread rumors.
Then I took a look at the option variance on ASHR.
Next thing I know, someone bought ASHR's PUT for $3 million on Friday: $ASHR 20220819 30.5 PUT$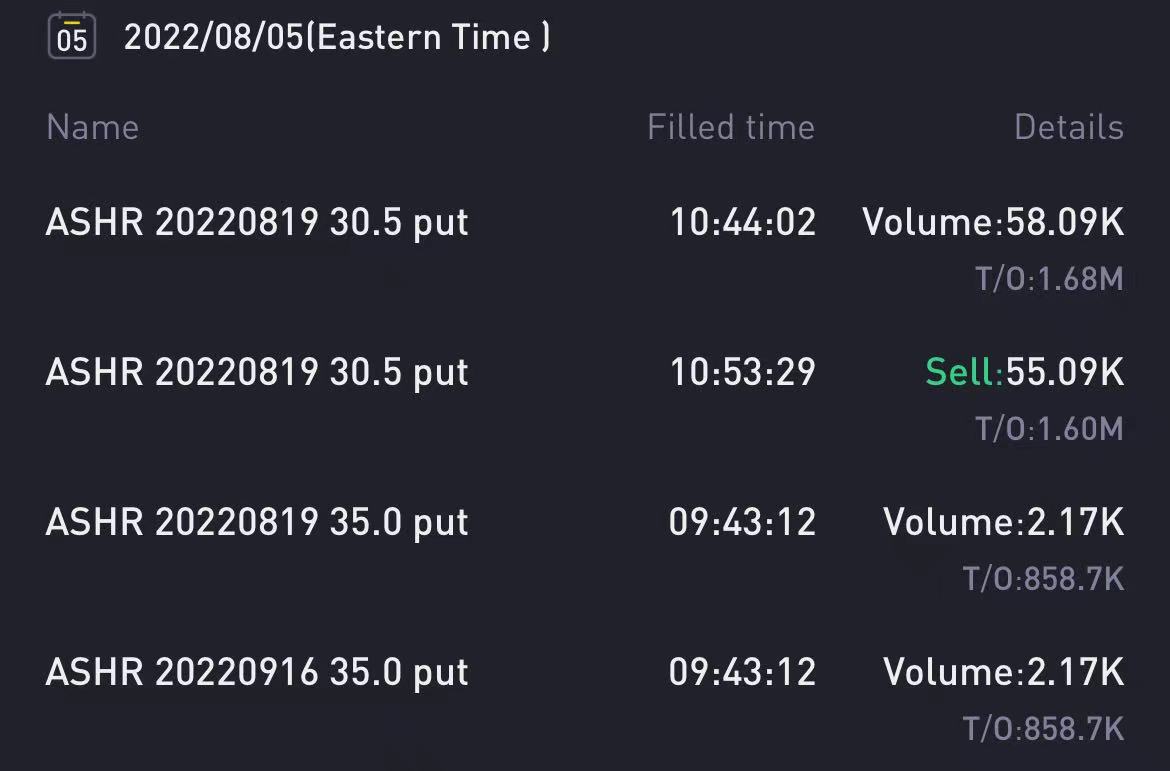 On August 2, the day before Pelosi's landing, an institution bought 6 million calls to call the A-share market, as if it knew it was dead:
​$ASHR 20220916 31.0 CALL$ & $ASHR 20220916 33.0 CALL$
(This strike price and expiration date are definitely not congressmen's style.)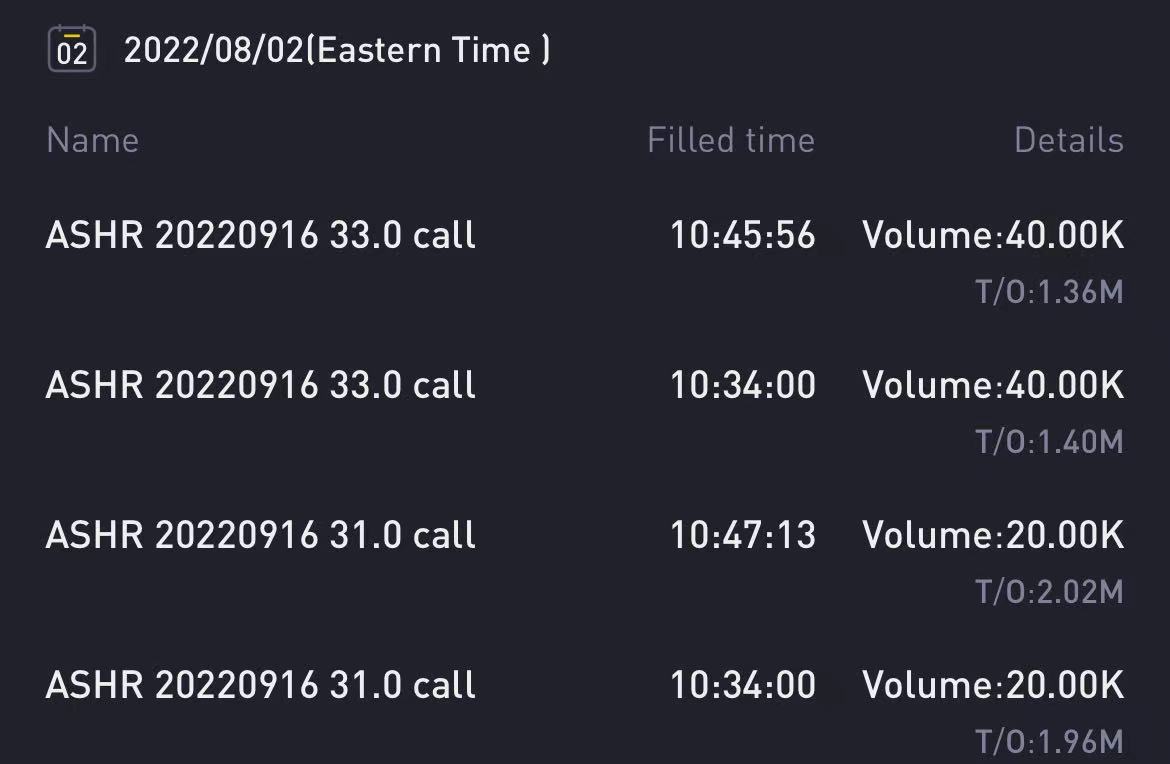 So who is in what mood to lean against the wind and buy a lot of put in such a bullish situation? The intention is worth reading.
(Of course, if it turns out to be fake, the blogger who posted it bought it, but I don't think that's proportional to his risk of litigation.)
Most people are more concerned about the holdings of A shares, I am not talented, from the PUT type to help you analyze: $ASHR 20220819 30.5 PUT$
First, the expiration date is very close, August 19, just 10 days from the expiration date, the standard doomsday option, which means traders are betting on a correction in the near future.
Second strike price, strike price choice of 30.5, is expected to fall 2%, not a big thing, a small correction.
Finally, there is the total amount, 3 million, which is a common order of magnitude for a mid-sized event, indicating that traders have greater confidence in the pullback.
Given all this, if this order is indeed a bet on the impact of fund managers, it means that the impact is just a small correction in the broader market, but it is likely to scare a lot of people. But the correction is not long lasting and the impact is not significant, so what happens is what happens.
Disclaimer: Investing carries risk. This is not financial advice. The above content should not be regarded as an offer, recommendation, or solicitation on acquiring or disposing of any financial products, any associated discussions, comments, or posts by author or other users should not be considered as such either. It is solely for general information purpose only, which does not consider your own investment objectives, financial situations or needs. TTM assumes no responsibility or warranty for the accuracy and completeness of the information, investors should do their own research and may seek professional advice before investing.