Introduce an opportunity with a 43% annualized return
Since the market gives the opportunity, then I also welcome to lie flat. Who doesn't like easy trading to make a lot of money?
《Here's a dark horse stock of 2023》 Introduced this year's dark horse $Microsoft(MSFT)$ . institutions in the face of next week's FOMC pressure, also sold the in-the-money put option.
Selling at-the-money puts is a risky move at this stage, meaning there is a high probability that the stock will be exercised.
But the institutions did it anyway, this shows that Microsoft is worth exercising.
Looking at yesterday's options move, the strategy is even more exaggerated:
The annualized return is 43%. Total options turnover was more than 6.9 million. Yesterday, Microsoft closed 276, and the strike price choice 275, basically clear exercise behavior.

In addition to 260,262.5 is also a popular range: sell $MSFT 20230331 262.5 PUT$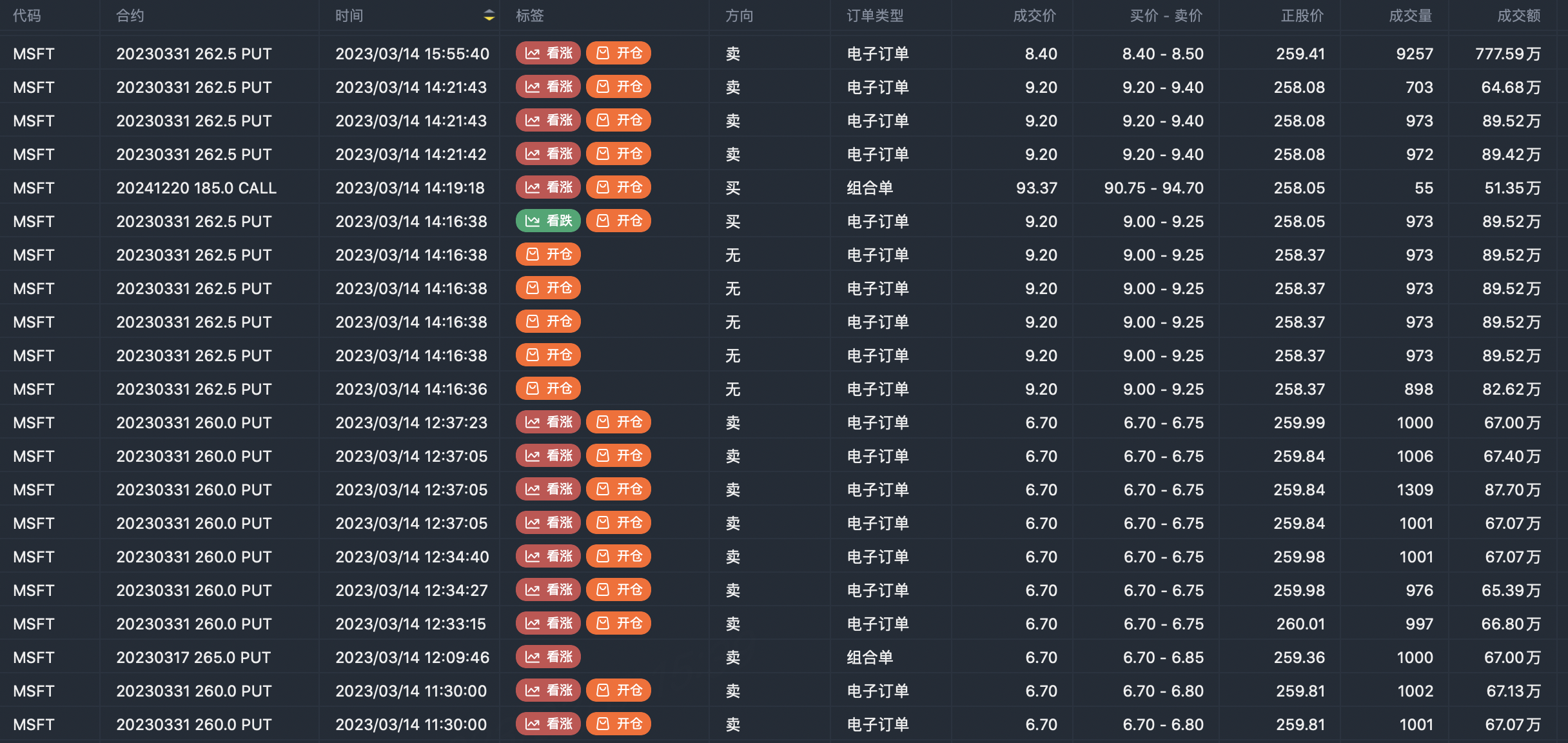 I'm sure some people will ask: Can I buy a call option when institutions are so bullish on Microsoft?
This question can be reversed, the institutions so bullish Microsoft would rather sell put why not buy call?
The reason is simple, if there is another black swan in the near future, the sell put can exercise the stock and option rights, buy call nothing, a real loss.
This shows that the problems in the banking sector have not been solved. Institutions would rather sell put and exercise stocks at a high than take advantage of a double opportunity to buy a call option.
I think Microsoft is a little expensive right now. If you have a lot of money and don't want to wait, the sell put is a better choice than the buy call or the stock. But it's best to be patient and wait for a minor pullback.
If you find Microsoft shares and options expensive, consider the Microsoft leveraged ETF as well: $DIREXION DAILY MSFT BULL 1.5X SHARES(MSFU)$
Disclaimer: Investing carries risk. This is not financial advice. The above content should not be regarded as an offer, recommendation, or solicitation on acquiring or disposing of any financial products, any associated discussions, comments, or posts by author or other users should not be considered as such either. It is solely for general information purpose only, which does not consider your own investment objectives, financial situations or needs. TTM assumes no responsibility or warranty for the accuracy and completeness of the information, investors should do their own research and may seek professional advice before investing.