Is the collapse of the regional banks over?
I'm not good at analyzing bank assets, so let's analyze big option orders.
On Thursday, the main explosion was in these sectors: banking, securities, insurance and real estate, as well as some loss-making emerging industries such as offline medical and new drug development companies.
Before we had fully reacted to the event, several companies were bought with put options. Keeping an eye on whether these options are closed and rolled will help gauge how things are going.
The reason why we did not choose the big four banks is that the direction of trading is confused.
$American International Group Inc(AIG)$
A $10 billion insurance company. The 52.5 put was opened on February 2, and it's possible that the big man was one of the first to plot the collapse of bank stocks. Today the big guy closed his position after a fivefold gain, taking a quarter of the profit and continuing to roll the strike price at 45.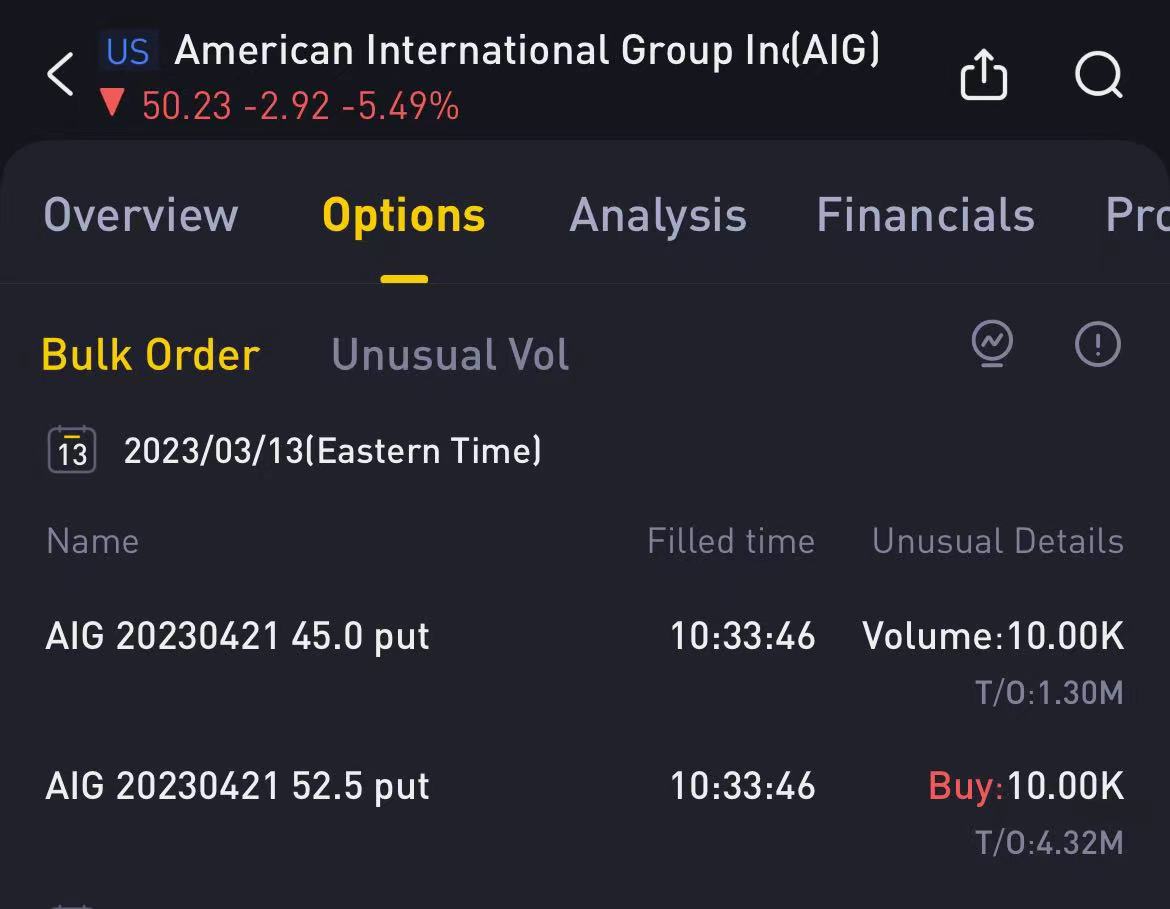 roll is a common operation, similar to a stock stage partial profit. The time to be bearish has passed, but the trend is likely to continue for a while. The time he rolls is April 21, which I think is the reason for the good liquidity of the monthly option and the abundant time value, but it does not really last until April.
$Bank Ozk(OZK)$ Small banks. The downward trend is earlier. Forty of them have only held for two days, bought on the 7th and closed on the 9th. But the 35 put hasn't fully closed.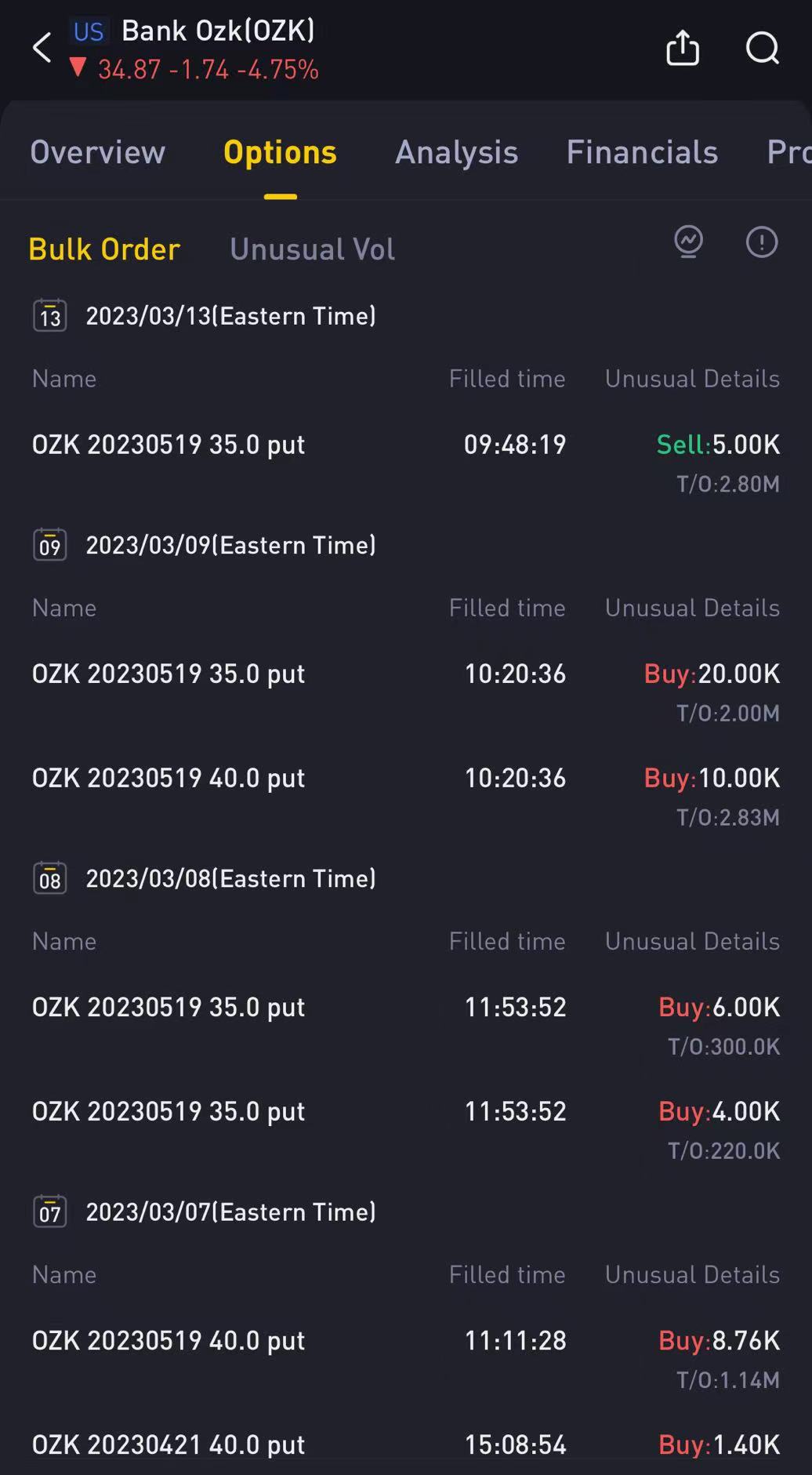 $Ares Capital(ARCC)$ Investment finance company, the main investment direction is equity debt.There are more large put orders, but options have longer expiration dates and are open.$ARCC 20230616 18.0 PUT$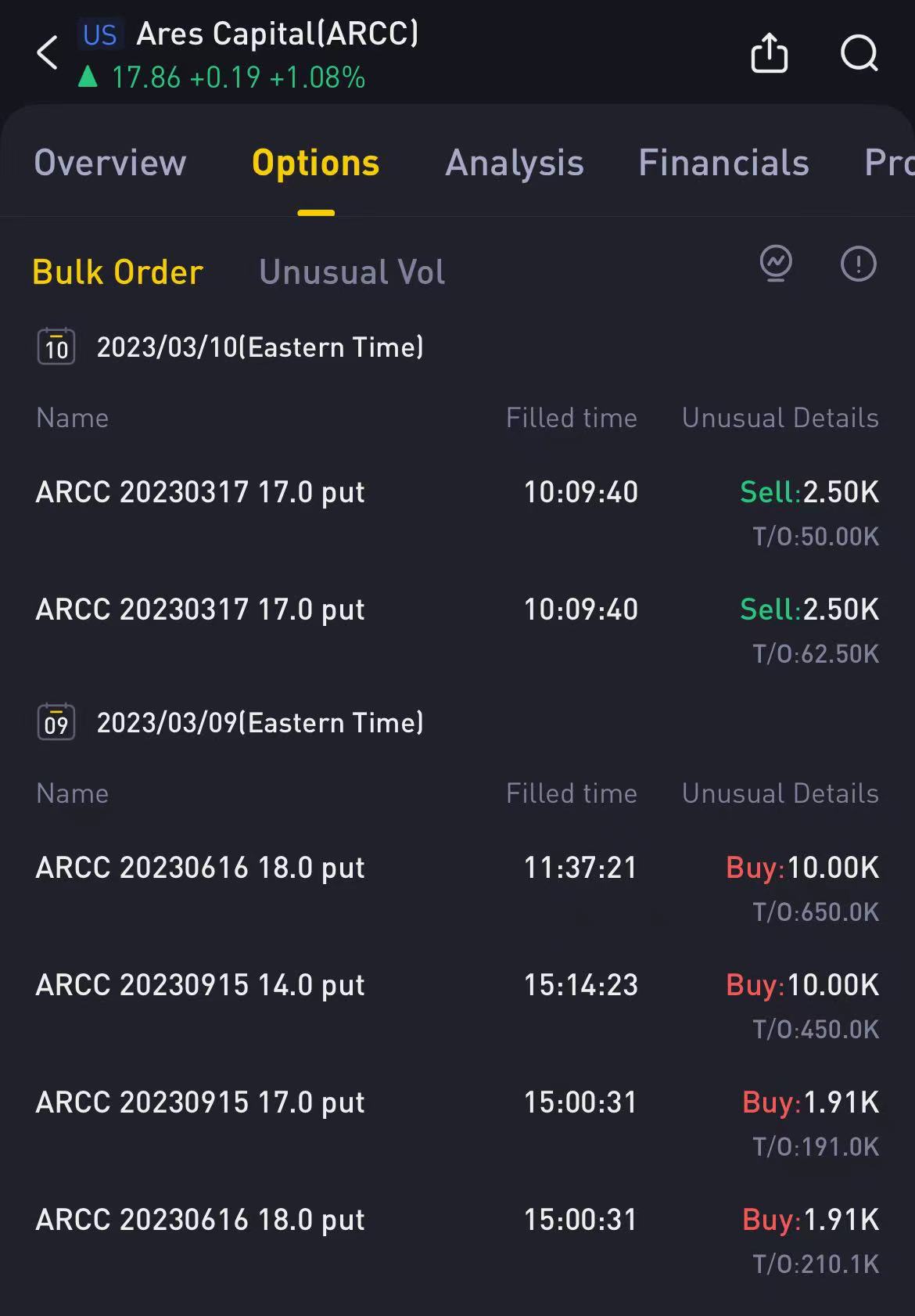 $CBRE Group Inc(CBRE)$ Commercial real estate investment services, $CBRE 20230616 75.0 PUT$ Open position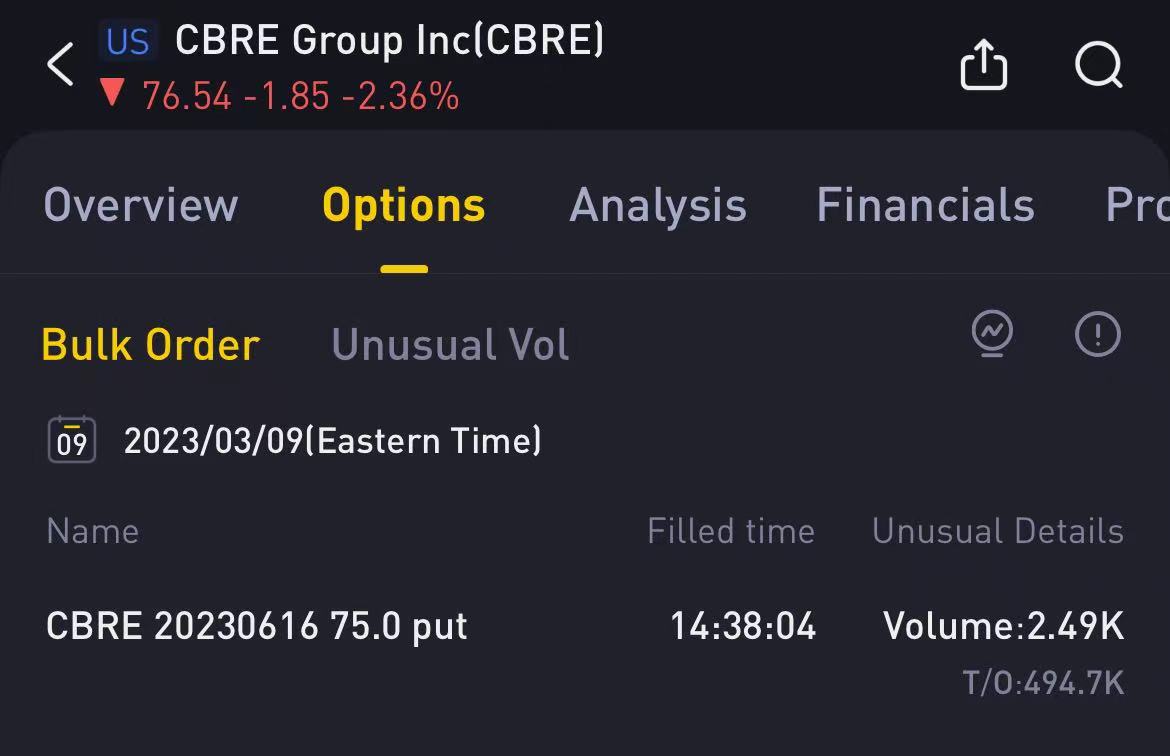 $Starwood Property(STWD)$ Real estate investment trust company $STWD 20230616 18.0 PUT$ Open position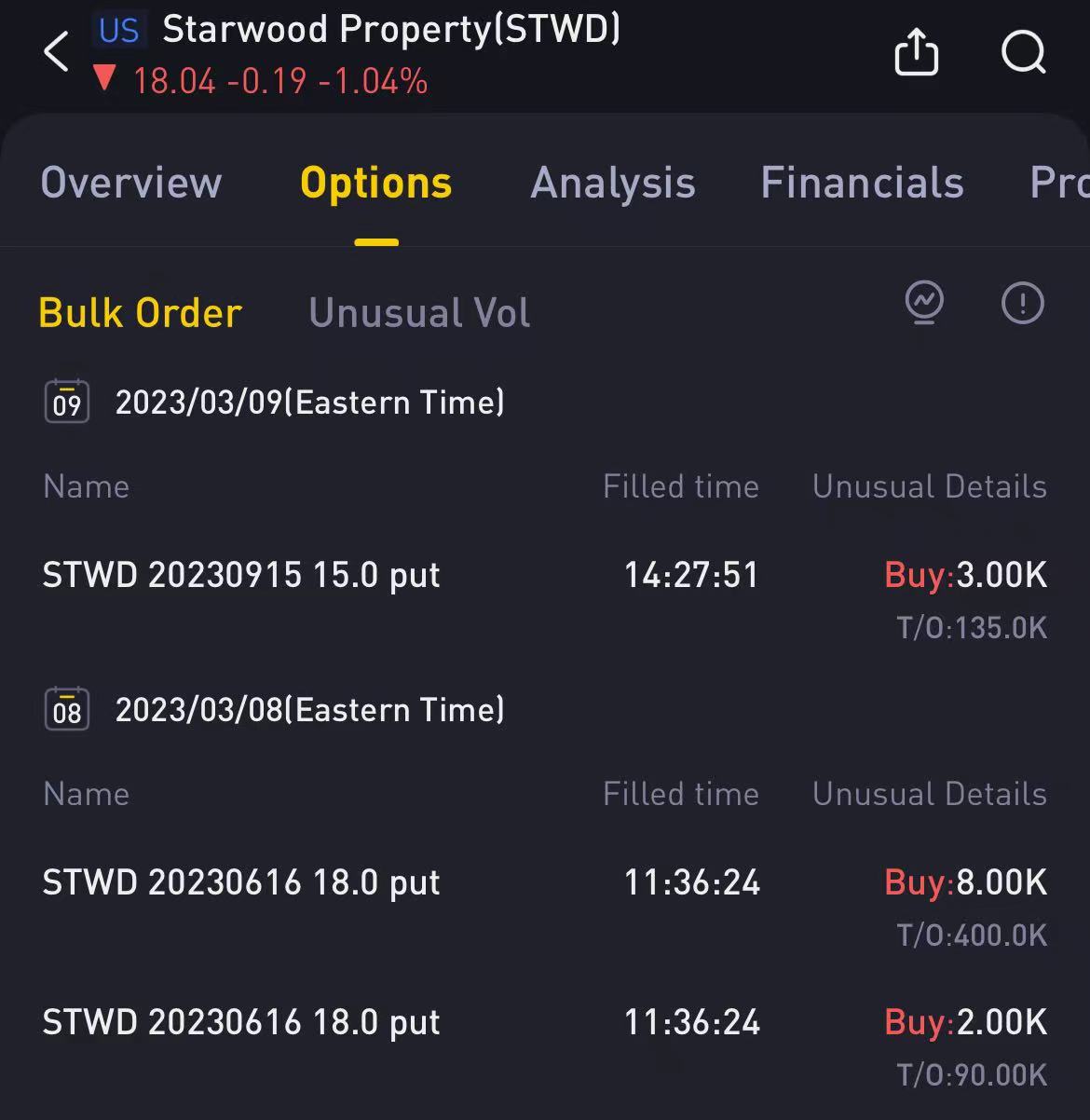 others:
$iShares China Large-Cap ETF(FXI)$ Hong Kong A shares bullish. I may not have much room to buy when I write it, but the ceiling is a reference, a little bounce. Target last week's high.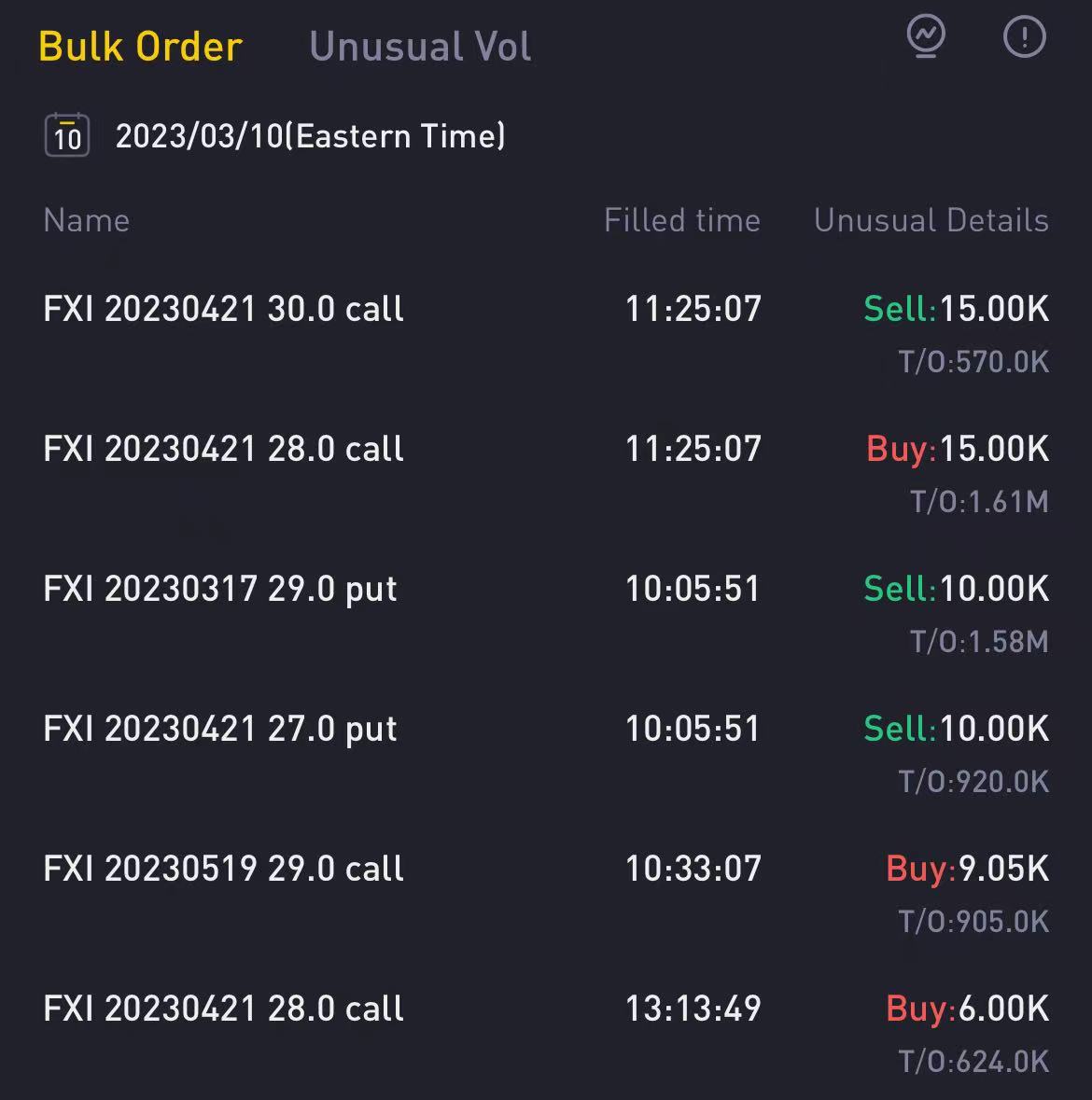 $Estee Lauder(EL)$ This year female makeup consumption demand will be warm, you can pay attention to Estee Lauder, the rate of return is sure to outperform the market. But I think it's probably a little aggressive to buy a call option right now, and I think it's more stable to sell put.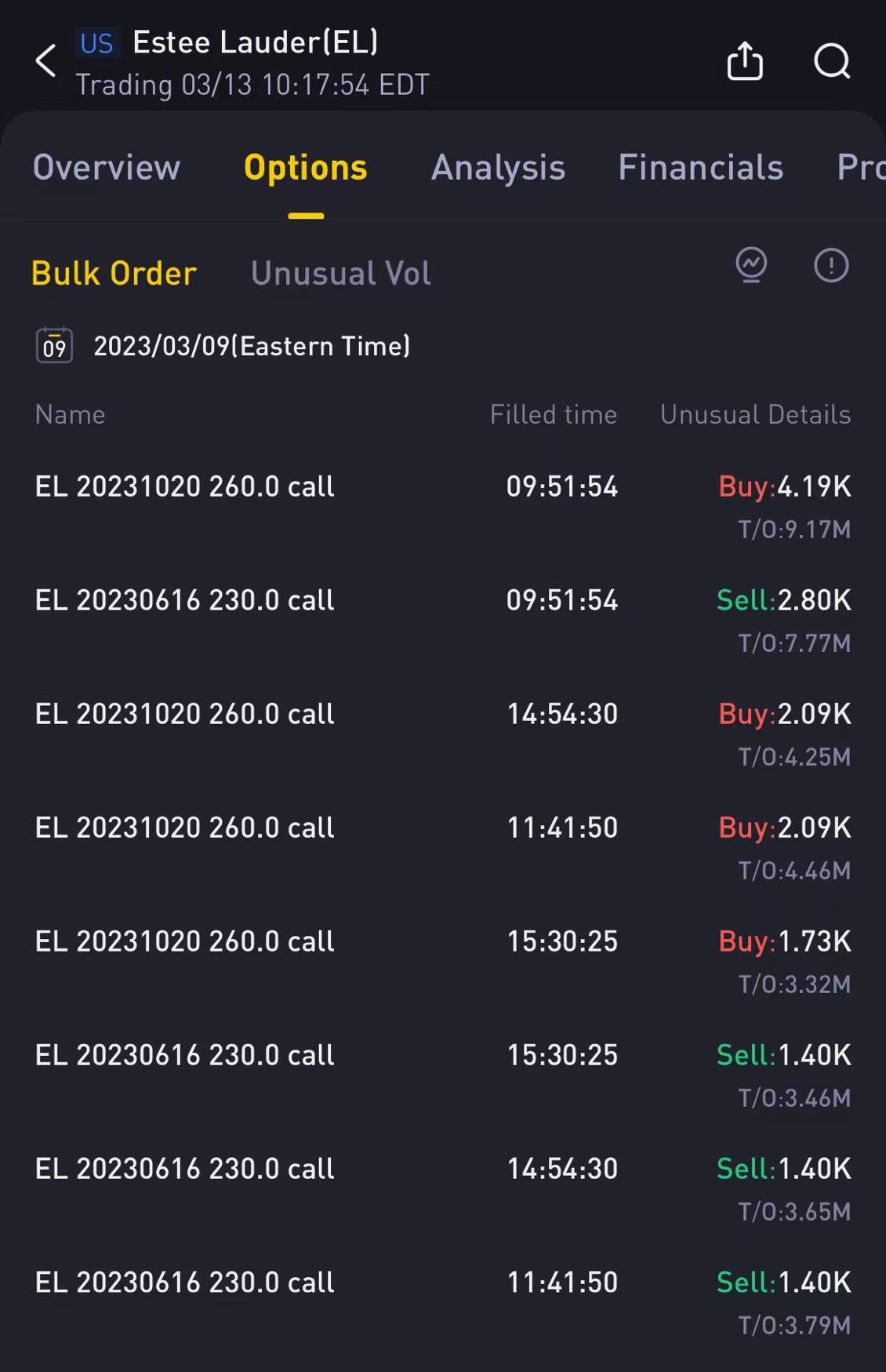 Disclaimer: Investing carries risk. This is not financial advice. The above content should not be regarded as an offer, recommendation, or solicitation on acquiring or disposing of any financial products, any associated discussions, comments, or posts by author or other users should not be considered as such either. It is solely for general information purpose only, which does not consider your own investment objectives, financial situations or needs. TTM assumes no responsibility or warranty for the accuracy and completeness of the information, investors should do their own research and may seek professional advice before investing.